HK Influencers on Instagram that You Need to Follow
Influencers in Hong Kong on Instagram are huge. What sets these HK influencers or KOLs apart from others on Instagram? These users have thousands of followers, sometimes millions, and they are integral to influencer marketing in Hong Kong.
They are not just popular, they're powerful – they are a brand on social media platforms.
According to Adweek, "marketers are doubling their investment in influencer marketing this year, with Instagram influencers alone accounting for more than $1 billion of marketing spend".
These influencers in Hong Kong are also sublime content creators and have an established channel with immense social media reach.
In fact, when it comes to influencer marketing, they have the power to sway the attitudes, opinions, and responses of the masses in their respective industry. Are they opinion leaders? Most certainly, yes!
If you are wanted to use one of these opinion leaders in your KOL marketing, read on!
Here are 8 prominent social influencers taking Hong Kong social media platforms by storm.
We're sure they'll help to inspire your very own digital footprint and your KOL marketing.
1. Daniel Lau – Our favorite HK influencer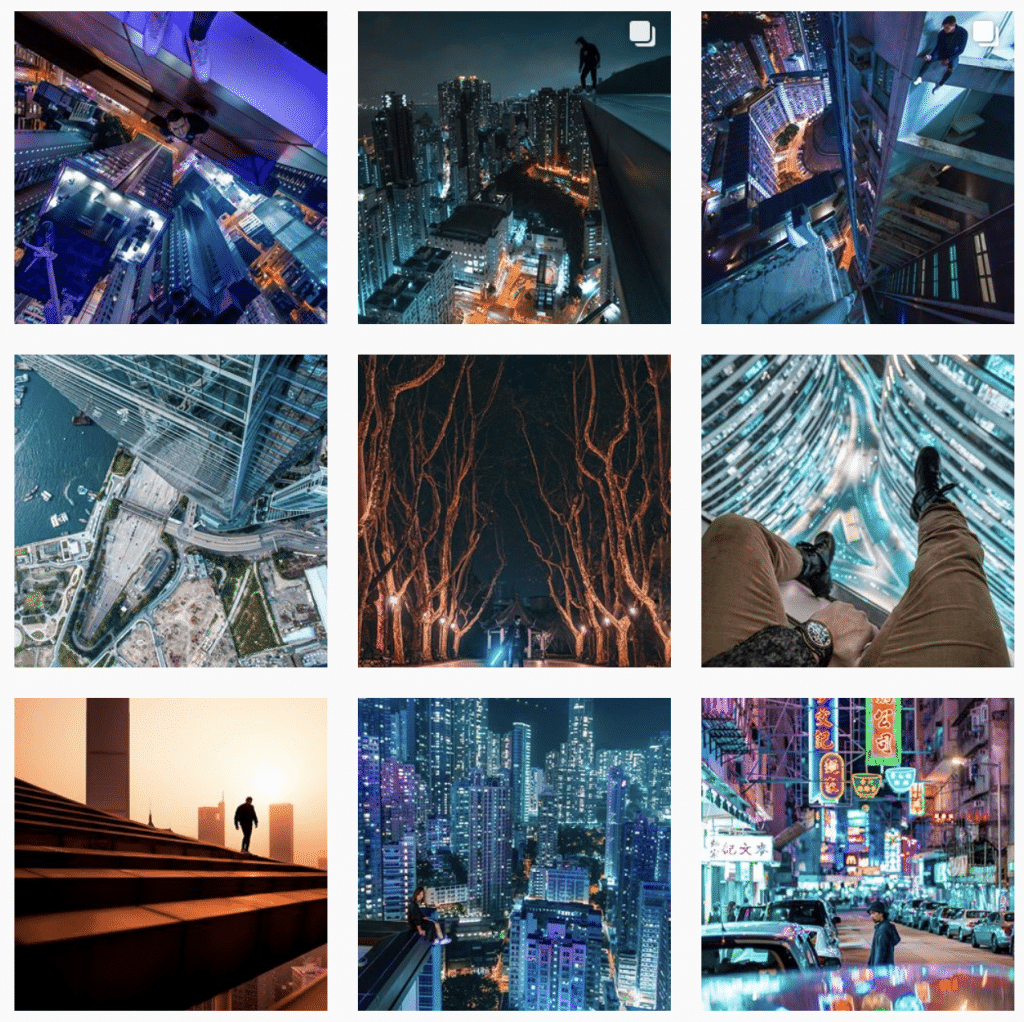 Daniel Lau is a man who's literally on top of the world. He ventures across the globe to unveil a striking sequence of impeccable views. He is a busy working personal trainer. His follower base loves his images.
When he is not training, he travels to the utmost ends of Hong Kong to discover the best rooftops to climb.
After each climb comes an astonishing photograph. Just as @daniel__lau tells his audience to 'follow the brightest star,' he puts his life on the line to do just that. It might seem crazy to do so, but audiences love it.
Lau captures life on the edge. He shoots Hong Kong from hidden heights at various times of the day. We get immense aerial skyscraper shots, luminous lights, and picturesque portrayals of the metropolitan city's incessant everyday life.
Although, Lau's no stranger behind the camera. He often captures himself amid the action. Either through a stupendous selfie, full-body shot, or even sneaking his legs into the frame, all while promoting his intrepid group 'Exthetics.' You can mimic him if you try, but you won't have influence like him.
In an interview as an HK influencer with Time Out Hong Kong, Lau affirms, "The most interesting thing about urban exploration is that there are no guidelines to follow and no one to tell you what to do. You have to depend on your gut instincts to create what you envisioned."
2. Jonathan Cheung – Our lifestyle HK influencer pick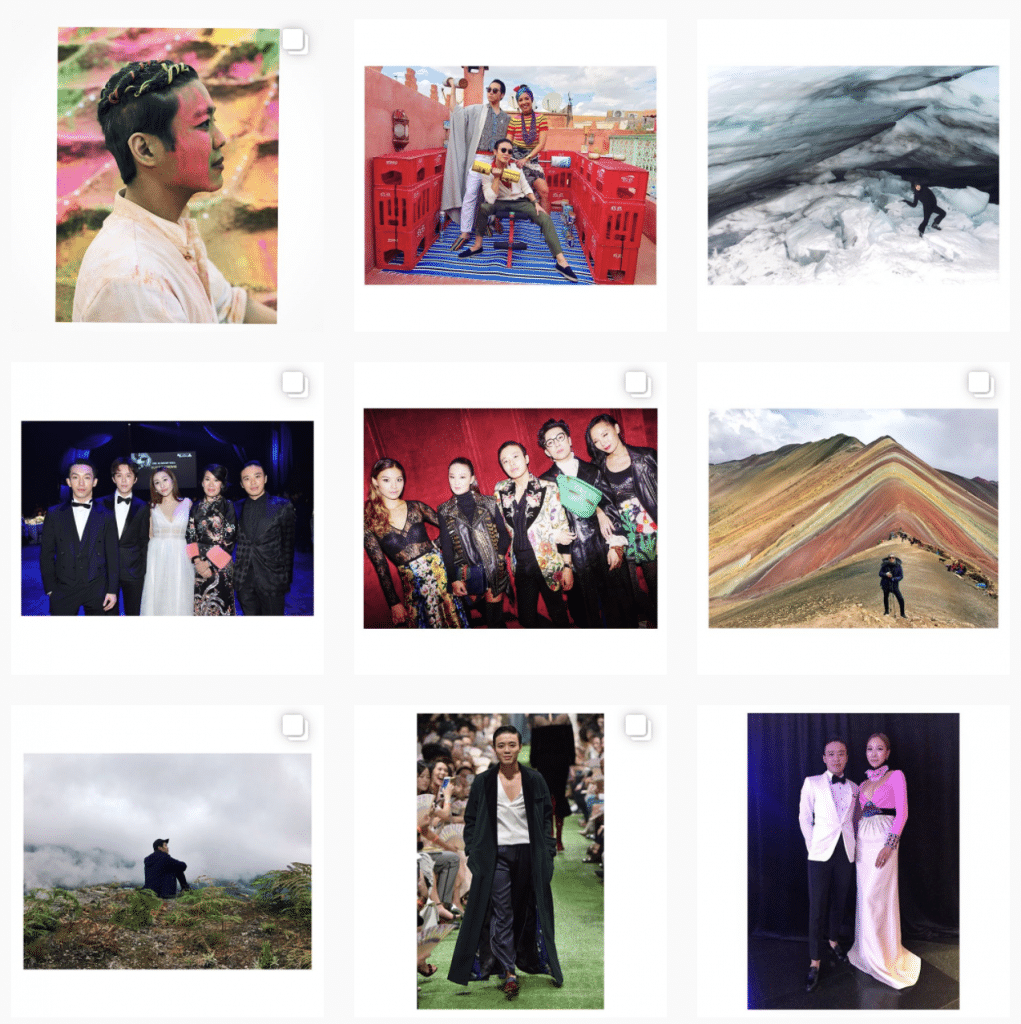 Jonathan Cheung, Co-Founder of Buzz Agency is a modern-day connoisseur of all things luxe.
Buzz Agency is one of Hong Kong's most renowned public relations and marketing agencies, showcasing an enthralling fusion of fashion, lifestyle, and culture. You could think of Jonathan as one of HKs leading macro influencers.
Featured on Hong Kong Tatler's 'The 500 List', Cheung, one of the best HK lifestyle influencers, an undergraduate from New York's distinguished Parsons School of Design, invites you to follow his charmed journey as a visionary; work, play, and all the passion in between.
Much like his life's work, Cheung sure knows how to have a party. Whether gracing Milan Fashion Week, sailing the seas of Sorrento, or skiing in Switzerland, Cheung always steps out in style and, of course, takes a spirited snap to match!
And his Instagram is a pure testament to that, whereby the metropolitan socialite proves that his life, in fact, imitates his art.
3. Vivien Liu – A top photographer HK influencer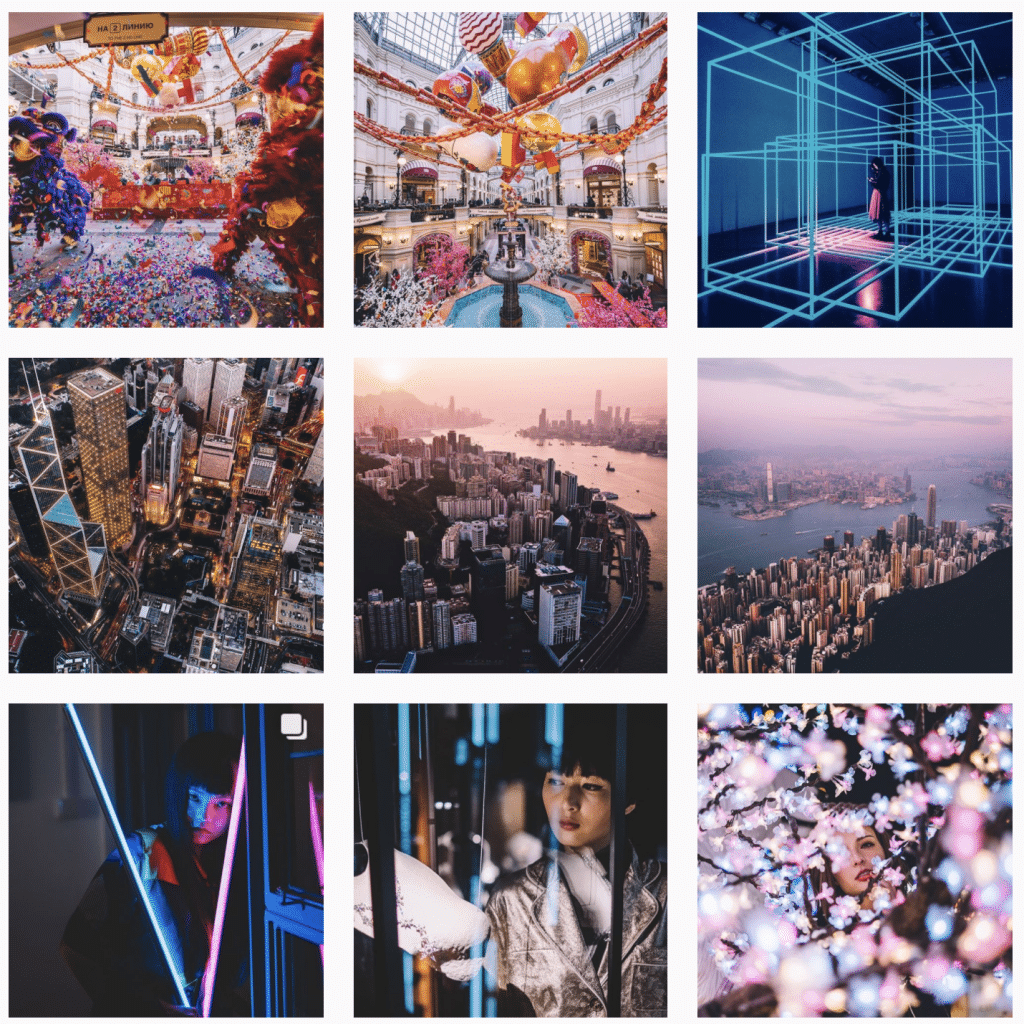 Vivien Liu is globally revered as both an architect and photographer. She is the Founder of Studio UNIT. Her passion is Hong Kong's urban density and structure through rose-colored glasses. With a camera in hand, the images she produces for her audience are amazing.
She loves the bold cityscapes, striking geometric buildings, impeccable lines, and mauve sunsets to the fashionable faces and frenzied streets of downtown.
Liu captures the city's aesthetic in manifold forms through her IG account. It is a unique visual feast for wandering eyes.
To add to a surplus of more than 230,000 followers, Liu, through Studio UNIT, has driven the design behind some of Hong Kong's most prominent buildings, including the Tencent Binhai Mansion (OMA), Charter House Lobby (KPF) and Danen Capital.
She has simultaneously attracted major clientele such as Nike, American Express, Samsung, and Sony, to name a few.
Liu's incredibly powerful work remains a moving anecdote of how a passionate architect turned into a famous photographer.
It also lays her claim to being one of our favorite key opinion leaders. Hereby declaring a passion for "the extreme contrast of natural and man-made, how a super high-density urban environment can be just minutes away from a forest," which manifested her utmost success.
4. Jessamine B – A culturally perfect HK influencer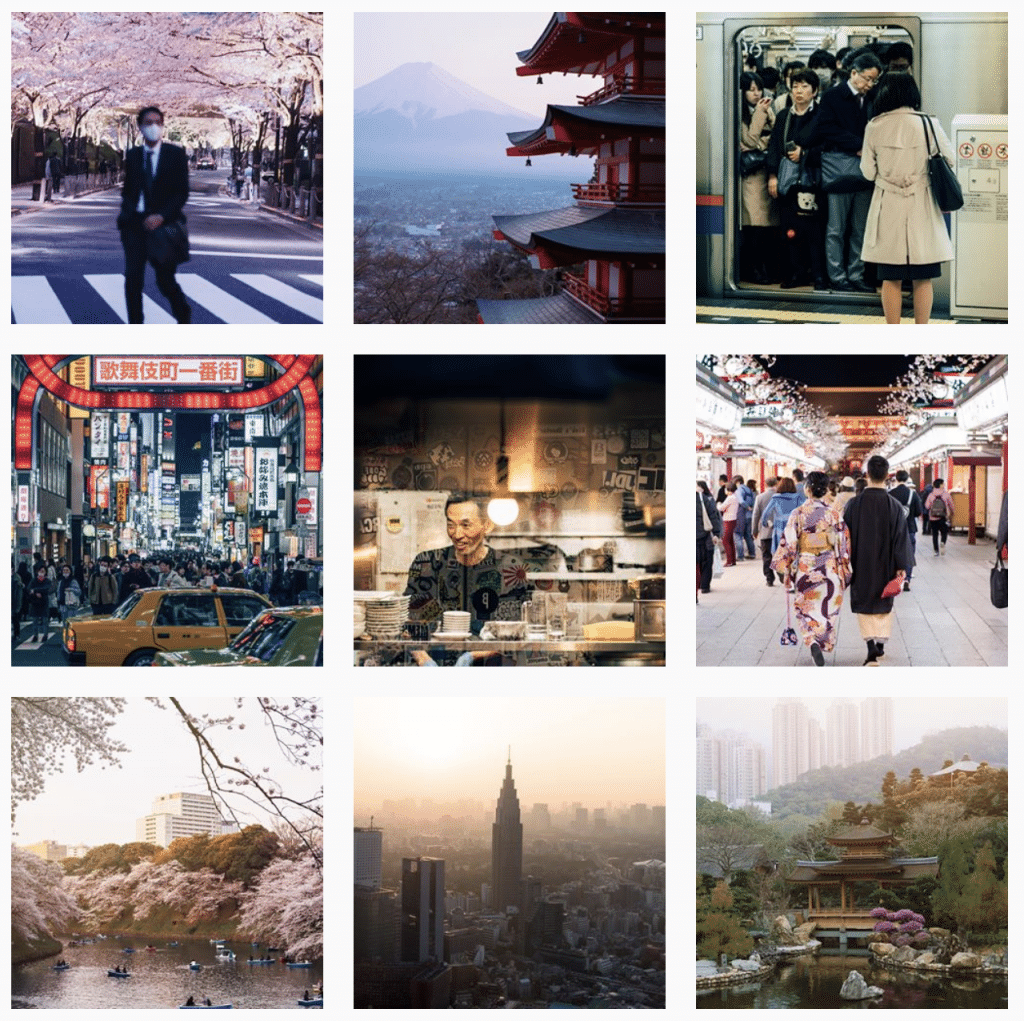 Soft hues, crisp air, and everyday dwellers amid the metropolis gently intertwine. We see great cityscapes and iconic landmarks to reveal Jessamine B's precious portrayal of life in Hong Kong.
Born and raised in London, Jessamine B now resides in Hong Kong. She is a well-known lifestyle and travel blogger, penning her many interests via the blog 'Hello Jesso.'
Jessamine's keen passion for life in general, art and crafts, photography, and travel. This she seamlessly translates through her awe-inspiring Instagram.
The blogger of Filipino descent uncovers a personal outlook, for instance. She looks into the very things that she enjoys most while visually representing the geographical gems that make life worth living.
Jessamine B offers many distinguished juxtapositions. Moreover, things like the rush hour in Japan against the tranquillity of Tianmen Mountain.
This welcomes you to chase her enticing travels. Jessamine is among the most liked HK influencers.
5. Kyle Yu – An artistic look into local life by this HK influencer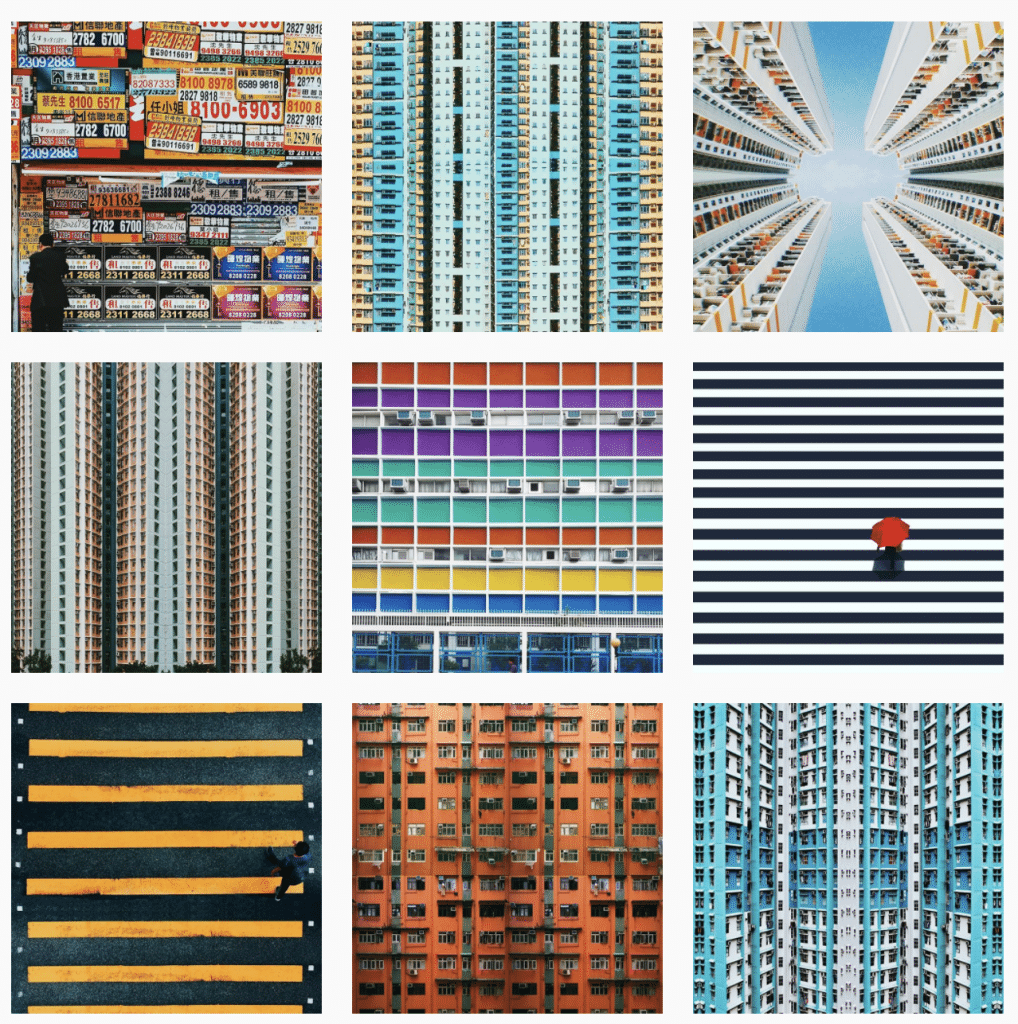 Born and living in Hong Kong, Yu, captures the city's most remarkable buildings with his artistic eye. His portfolio includes a variety of state-of-the-art, retro and downtown buildings, geometric and patterned streets, bold lines and vivacious pops of colour.
Recently featured on Passion Passport, Yu admits having mild "symmetry OCD", which explains his flawless alignment of horizontal and vertical lines.
Yu offers an exclusive look into the metropolitan city's eminent infrastructure. In conclusion, he has made his mark as one of the great HK influencers while sometimes sneaking into its inhabitants.
6. Ceci Ngan– A world well-traveled with this HK influencer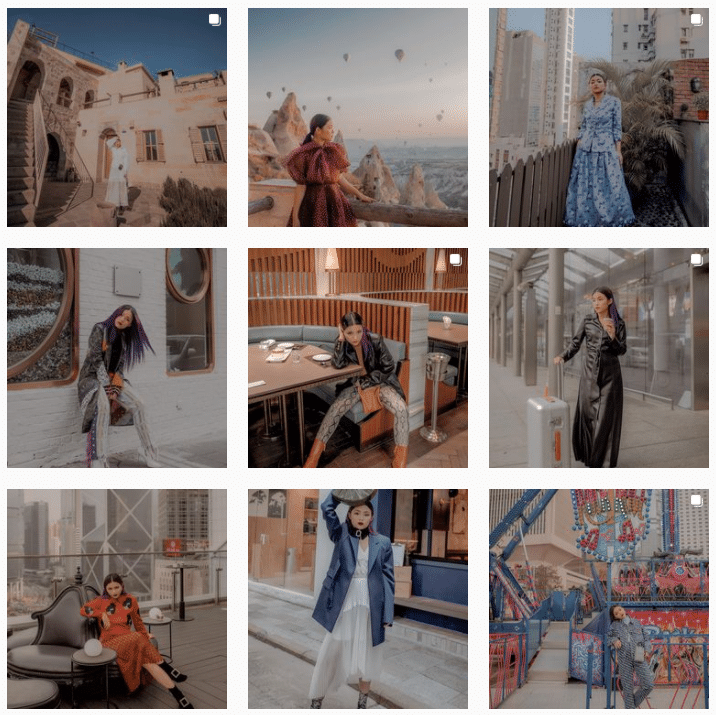 Are you an avid follower of the fashion community on social media? If so, Ceci Ngan may already be a familiar face.
She is the founder of the fashion and lifestyle mobile app, Sense7. Moreover, Ceci is a well-known style icon based in Hong Kong.
If you are a brand in this niche, she could help tap into your target audience with your marketing campaigns.
She documents her lavish staycations and eye-catching outfits on her aesthetic Instagram feed. With over 190,000 followers, Ceci continues to showcase her passion for fashion and snapshots of her daily life through her aesthetic lens.
Want to see her more distinctive outfits for more inspiration? Want to know about why she can influence the way that she does? Go check out Ceci's Instagram account @no7.
7. Sean Foley – One of our favorite HK influencers that loves the night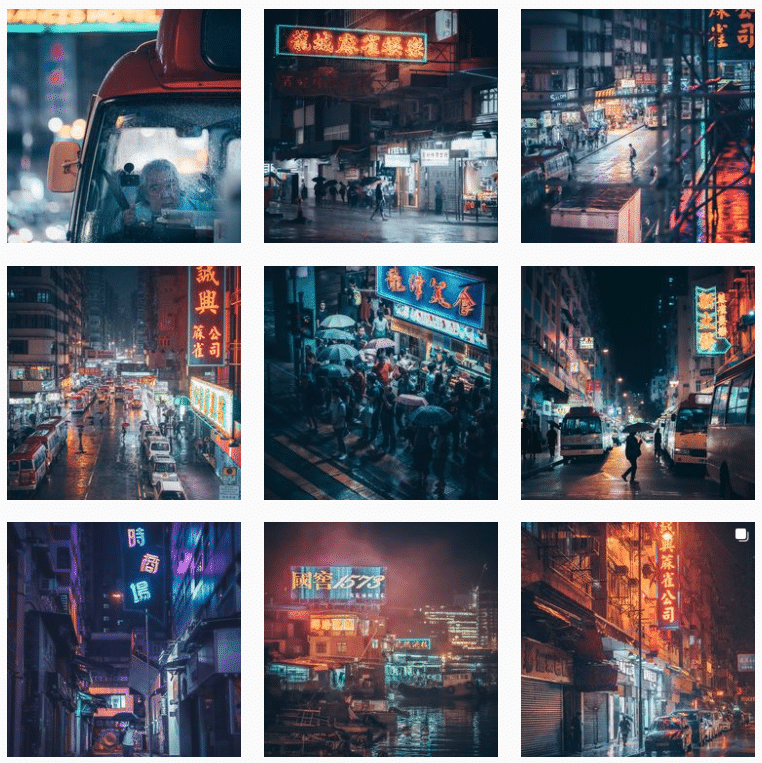 Known for capturing Hong Kong's scenery at nightfall, Sean is a master at crafting moody and atmospheric compositions, which he showcases through his awe-inspiring Instagram account.
Originally a teacher hailing from the land of down under, Sean would explore the streets of Hong Kong every night after work.
Now with over 33,000 followers, Sean likes to capture sides of Hong Kong that are often overlooked: strangers resting in the alleys at night, the view from the Lion Rock illuminated by night lights, and more.
8. Gloria Chung – We always get hungry with this HK Influencer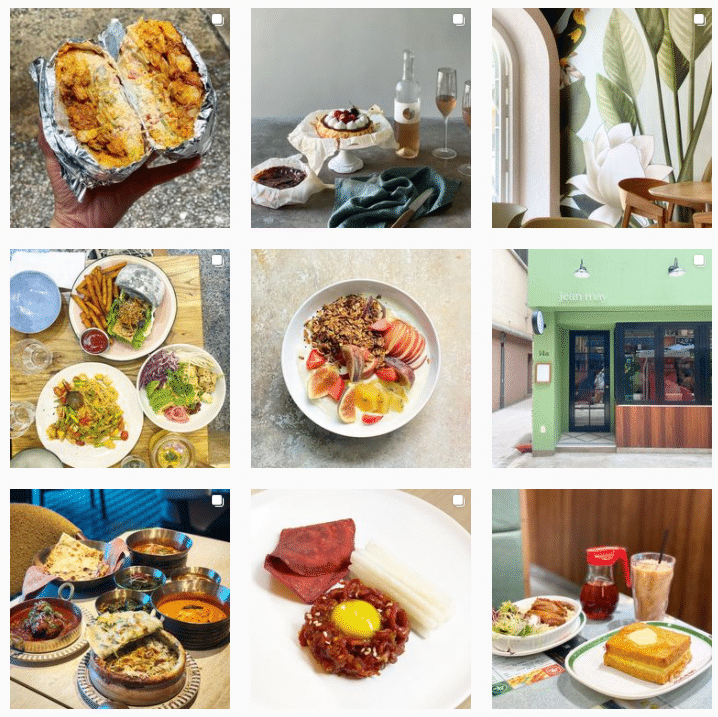 A journalist and editor for over 10 years, Gloria has tasted plenty of food because of her work.
Ignited by her passion for food, Gloria created her delectable Instagram @foodandtravelhk to share the food destinations in Hong Kong and around the world.
Currently, with her many followers, Gloria's feed is a feast for the eyes. From street snacks, appetizers, main dishes, and desserts, Gloria reviews all types of food – but the focus remains on authentic, quality, tasty dishes.
Definitely one of favorite key opinion leaders when it comes to cuisine.
Final thoughts on HK influencers who are the most popular Instagrammers
If you are interested in learning more about influencers in HK, check out our guide to Hong Kong's KOLs.
As marketers, we are always interested to leverage the power of influence from these key opinion leaders. If you would like to learn more about how we can help you as an influencer marketing agency with KOL marketing, contact us.
We love helping businesses grow on social media with Instagram, Facebook, or even LinkedIn. Be sure to contact First Page Digital and speak with one of our strategists to learn more about our marketing services.
Feeling inspired? The time to make your mark starts now. Peep our blog The Ultimate Guide to Instagram for Businesses: Part #1 for how to get started, or check out 4 Popular Marketing Design Trends to improve your strategy.