The Ultimate Guide to Instagram for Businesses: Part #3
If your business isn't on Instagram, you're missing out on some serious potential for growth. The fact that 75% of Instagram users have been proven to take action after visiting a post is just one of the many reasons for you to incorporate the platform into your digital marketing strategy.
Over the last few weeks, we've considered the ways that Instagram is a goldmine of opportunities for your business's success. Whether you're looking to increase brand awareness, sales, leads or reach, all it takes is a bit of knowledge and effort to start getting real results.
In the final instalment of our three part series, we'll be discussing how to boost your follower count and maintain a strong presence while consistently growing your user engagement and reach. If this is your first time tuning into the Ultimate Guide to Instagram for Businesses series, make sure to catch up on Part #1 and Part #2 before reading on. These blogs detail how to optimise your business's Instagram profile and create content that converts.
Now, are you ready to learn how your business can make its mark on the digital world? Read on!
1. Post once a day
Have you ever had someone tell you that posting too much on Instagram can decrease your follower count and engagement? You can officially tell them they're wrong.
According to a study conducted by Tailwind, the more you post, the higher your engagement rate will rise. In fact, you can almost double your follower growth rate by moving from less than one post per week to 1-6 posts weekly. And, if you post to Instagram daily, you can grow followers a massive 4 times faster than if you were posting less than once a week.
If you plan on using Instagram as one of your main marketing channels, it's important to commit to posting at least once a day. Likewise, if you start noticing that your content is performing well, it's a good idea to start maximising the amount of posts you share to continue gaining traction.
These days, top brands post on Instagram 4.9 times a week. However, if you have the time and are committed to helping your business grow, we encourage you to aim for more. You'd be surprised at some of the responses an engaging image can generate, and keeping a consistent posting schedule ensures that your brand is making an impression on potential customers.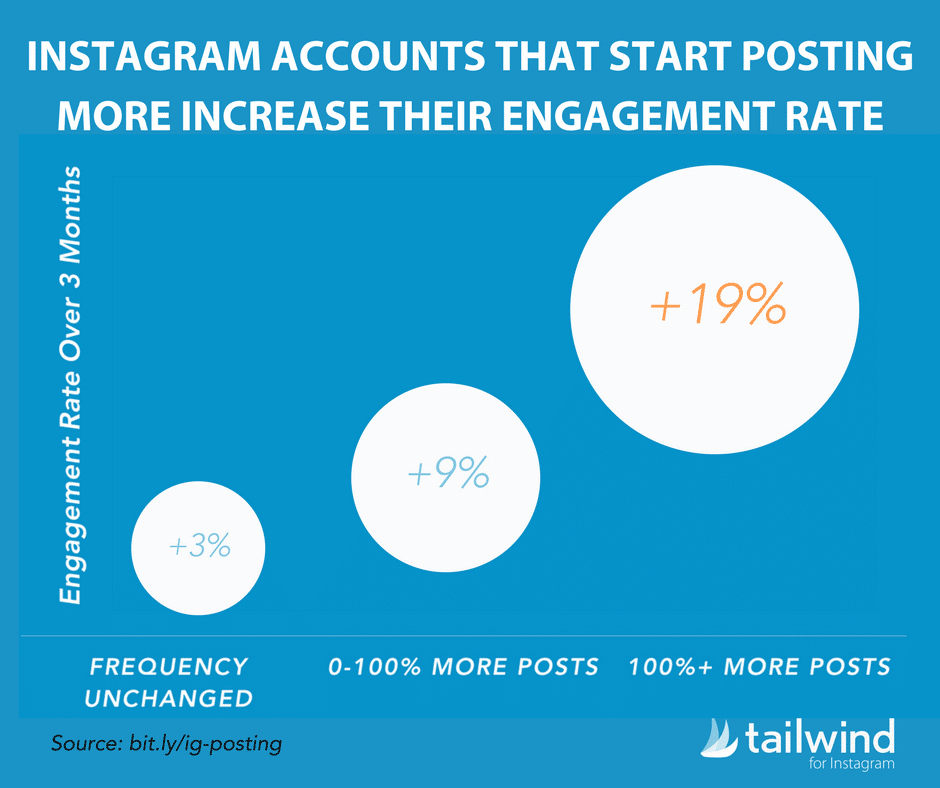 2. Partner up
A fantastic way of increasing brand awareness is to collaborate with other brands and Instagram personalities through partnerships, sponsorships or cross-promotion.
Team up with a business whose brand aligns with yours and promote one another by tagging each other in posts. You could even arrange an Instagram story "takeover" for the day, where you upload content to their story that's relevant to both of your brand's audiences. This could be the coverage of an event, a product launch, or even a live Q&A session.
Hosting a joint giveaway or competition showcasing both of your products is another highly effective way of getting more visitors and potential customers to land on your page.
As your Instagram presence grows, there are loads of opportunities for you to consider. Influencer marketing is a viable option, with 94% of marketers stating that the technique has been effective for them. Influencers can drive major traffic to your business by sharing your products with their own fanbase, who trust the influencer's decision to back your brand. In essence, this increases your brand authority and popularity while skyrocketing your potential for sales.
3. Make friends!
One of the major benefits of Instagram is that it's an extremely community-minded network. Anyone can log on and find a group that shares common interests with them, and easily communicate via comments or Instagram's native messenger. According to a report by Forrester, Instagram has a 2.2 percent per-follower interaction rate. Compared to Facebook's 0.22 percent, this is enormous.
Using the community-oriented nature of Instagram can greatly assist with building your brand and supercharging your follower count. Engage with other users by following and liking the posts of accounts you enjoy. Comment on posts and always reply to comments left on your own profile. While this is time-consuming, it's an infallible way of establishing rapport with potential customers and giving your brand a personality.
Customers are drawn to the human elements of a brand because they can relate to it, so staying active on social media plays a large part in driving engagement. Plus, if you compliment a brand you love on a post of theirs, they can plug your account and open you up to a whole new world of prospects!
4. Hold a contest
As we briefly discussed before, contests are an extremely effective way of driving engagement. In fact, Instagram accounts that hold contests can achieve follower growth 70 percent faster than those that don't. This is largely because the Instagram algorithm favours contests over other types of posts. Since a contest's engagement is so high, the algorithm takes note and displays the post to more of your followers, as well as boosting it in the hashtag directory.
Basically, contests encourage exponential follower growth and massive potential for reach. According to Tailwind, Instagram contests get 3.5 times more likes and 64 times as many comments than regular posts.
The most common process for an Instagram contest requires users to follow the account posting it, like the contest post, and tag (@) one or two Instagram users to enter. Some other ways to encourage users to enter your contest include:
Liking the post to enter
Sharing a photo on their own account and tagging it with your business's branded hashtag
Reposting a screenshot of your contest post on their own account, tagging your business or your branded hashtag
This is an excellent example of an Instagram competition by Adobe.
5. Make yourself visible
Another method to gain followers is by sharing a link to your Instagram across as many platforms as possible. For example, include a widget or follow button on your blog and in your email newsletter that directs your readers and subscribers to your Instagram.
When you share content on Instagram, cross-post to other platforms such as Facebook and Twitter — this will help people easily find your brand across multiple channels. According to BuzzSumo, images posted to Facebook via Instagram receive more engagement than natively published images.
Likewise, embed your brand's Instagram posts in your blog (if they're relevant to your topic, of course). A fantastic instance of a closely-linked blog and Instagram content strategy is @punch_drink, who post a summary on Instagram of each blog they produce. With their high quality photos catching the eye of viewers and a link to their blog in their Instagram bio, Punch are a perfect example of Instagram marketing done right.
6. Track and measure
Here's a point you've heard from us hundreds of times before: in order to have a successful digital marketing strategy, you absolutely must measure your results. If you don't, then you won't know what's working and what you need to adjust.
Once you've made a decent amount of posts, check your insights to determine which ones performed the best, who your main demographic is, and what content received the most reach and engagement. Determine which kinds of posts are bringing in the most followers and likes, and adjust your Instagram strategy as you go. You'll be rolling in followers in no time!
Thanks for reading The Ultimate Guide to Instagram for Businesses! We hope it's given you some insight on how to effectively promote your brand. Next, check out our blogs on 5 Hong Kong Influencers You Need to Follow on Instagram and 4 Simple Steps That All Successful Digital Marketers Take.