Choosing the right digital marketing agency for you
When choosing a digital marketing agency in Hong Kong, there is certainly enough to choose, from freelancers, to boutique agencies, global to service specific agencies & "holistic agencies". It can be overwhelming as a customer to begin your search.Choosing the right partner for your business is crucial, especially with the influx of digital marketing agencies in Hong Kong.
There are numerous experiences shared in our industry, where a client has had disappointing results with agencies due to a number of reasons, such as overspending, overpromising, lack of transparency, slow response rates, and the list goes on. Digital in itself should be impacting your bottom line positively and your digital agency should provide you with different strategies that can bring these results.
Based on your constraints, it is up to the agency to clarify timeline and expectations of the project. Occasionally, agencies fail to break away from short-termism when targets are misaligned with business objectives and customer relationships are based on an oversell.
To assist with your decision-making, here are a few points to consider prior to getting into a working relationship with a digital marketing agency in Hong Kong:
1.Does the Digital Marketing Agency attempt to understand your business thoroughly?
Understanding a client's business ecosystem is crucial towards formulating a strategy that can positively impact your business (i.e., your bottom line). Without understanding the fundamental components of your business model, such as your business processes and product/service nature, your agency will not be able to fully align digital strategic goals with your business goals. It is common for agency representatives to at least have a short call to understand the core components of your business & goals prior to putting together a more in-depth proposal. For more complex requirements, these sometimes are also discussed in an "intro" meeting, where you get a chance to also learn more about the agency itself.
For digital strategies in general, it helps us to understand the following points with more clarity;
What business KPIs do you want to impact? (sales? Leads? Subscription increase? "Valuable" website visitors? Online to offline store visits? etc.)

What is your timeline in wanting to achieve these goals? (there are short term vs long term strategies in digital marketing)

Who are your competitors? (point of reference in regards to what they are doing. What are the opportunities? what can we do in response?)

What have you done in the past? (be open in sharing what has worked, what hasn't in regards to promotions both online & offline, as this can impact strategy setting)

Can you provide budget allocated to digital or at least a range? (paid media and channel utilisation is dependent on budget available & time frame to achieve goals).
2.Find out an agency's core strengths and in-house execution capabilities
We find that there are a number of agencies that do not provide adequate transparency when it comes to whether or not your services are rendered under the actual team itself. Smaller agencies are dependent on potentially outsourcing your entire project to freelancers scattered across multiple cost-efficient countries. All too often, this means that they will not be able to build any capabilities in-house and simply outsource your campaign.
Being able to visit the agency's office, getting insights on their case studies and taking a tour around what kind of talent they have available in-house, will quickly shed light on whether or not your project is going to get outsourced. Your campaign will not be able to get the talent needed in a different country that doesn't have the cultural or intrinsic understanding of the target segment that your product or service is appropriate for.
A more common issue with lack of transparency comes from whether or not an agency will give you access to your own data. This is important because there are some agencies that run your campaigns through their "own accounts" to limit your accessibility to your own data. Only minimal data is shared with you and often limited to "vanity metrics" – which are metrics that at first glance might seem pretty, but don't have a direct/measurable impact on your business goals (e.g. impressions, traffic but without traffic engagement metrics, cost per click but without return on ad spend) .
This lack of transparency and use of vanity metrics hide the fact that there are other data points that should ALWAYS be of interest for you because they are directly related to your bottom line.
When it comes to reporting, make sure that these can be accurately shared in reports or through direct access to your Google Ads account.
3.Client Reviews and Agency expansion = Indicator of Credibility
Any agency that is proud of their work and maintains client relationships in a positive manner is going to have reviews online regarding their current and past client experience. Alas, there is no agency that succeeded in everything it has done, but if negative reviews outweigh the positive ones, it's time to do a 180 and run as far as you can.
You can see that there will be a number of agencies that hide their reviews. Be wary of an agency that cannot showcase its brand portfolio, or are hesitant to share cases even anonymously as they've signed NDA's with essentially all of their clients (note that for finance & insurance industries NDA's are a little bit more though to the point of where in some cases nothing can be shared).
4. Charging models – pain/gain pricing models are the new norm
When it comes to agency pricing models in Hong Kong, a lot are outdated and work against being in favour of the client. Something you will come across frequently when it comes to paid media is a % of ad spend being allocated to management fee.
This incentivises agencies to naturally spend all of your budget to maintain their own management fees, regardless whether that budget is spent efficiently or not. This model is contrary in doing what every single marketer should optimise campaigns for – targeted, relevant, high-converting audiences – which in most cases should consciously try to maximise budget based on results vs the scatter shotgun approach.
Fact is that you need to find an agency that is willing to bet on their execution capabilities and tie your success to theirs. In order to do that, the management fee should start off with an "entry level" model for managing online marketing ads and gather the necessary data for setting performance benchmarks (upon mutual agreement). Subsequently, when these benchmarks are hit, the agency will get performance bonuses; and if they underperform, their management fee decreases as a penalty. First Page is a firm believer of such performance-based models for all our campaigns (with significant budgets). This pushes your agency to not just deliver at standard rates, but to overperform so that they do not just keep their clients happy, but justify their management fee and grow revenue as well.
When it comes to SEO campaigns, we use both keyword rank guarantee & traffic guarantee models at different milestones across the campaign period, which if we do not meet, billing stops and we work for free until we do. This puts a lot of our customers' mind at ease, knowing that if we do not achieve the results we promise, we will work as hard as possible to get the performance back on track. We know for a fact that a guarantee model for SEO is not common here in Hong Kong, which is what has helped us set ourselves apart.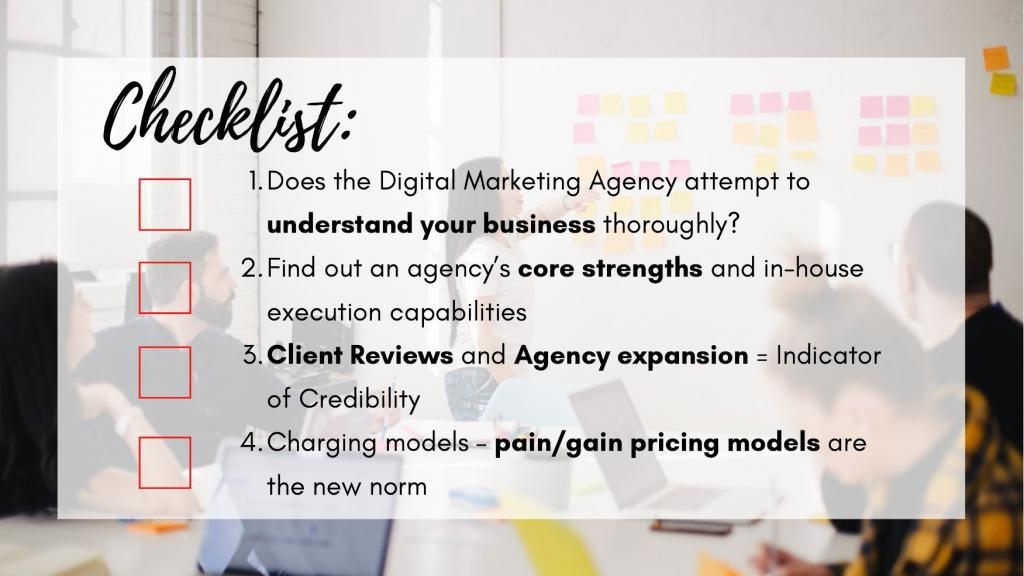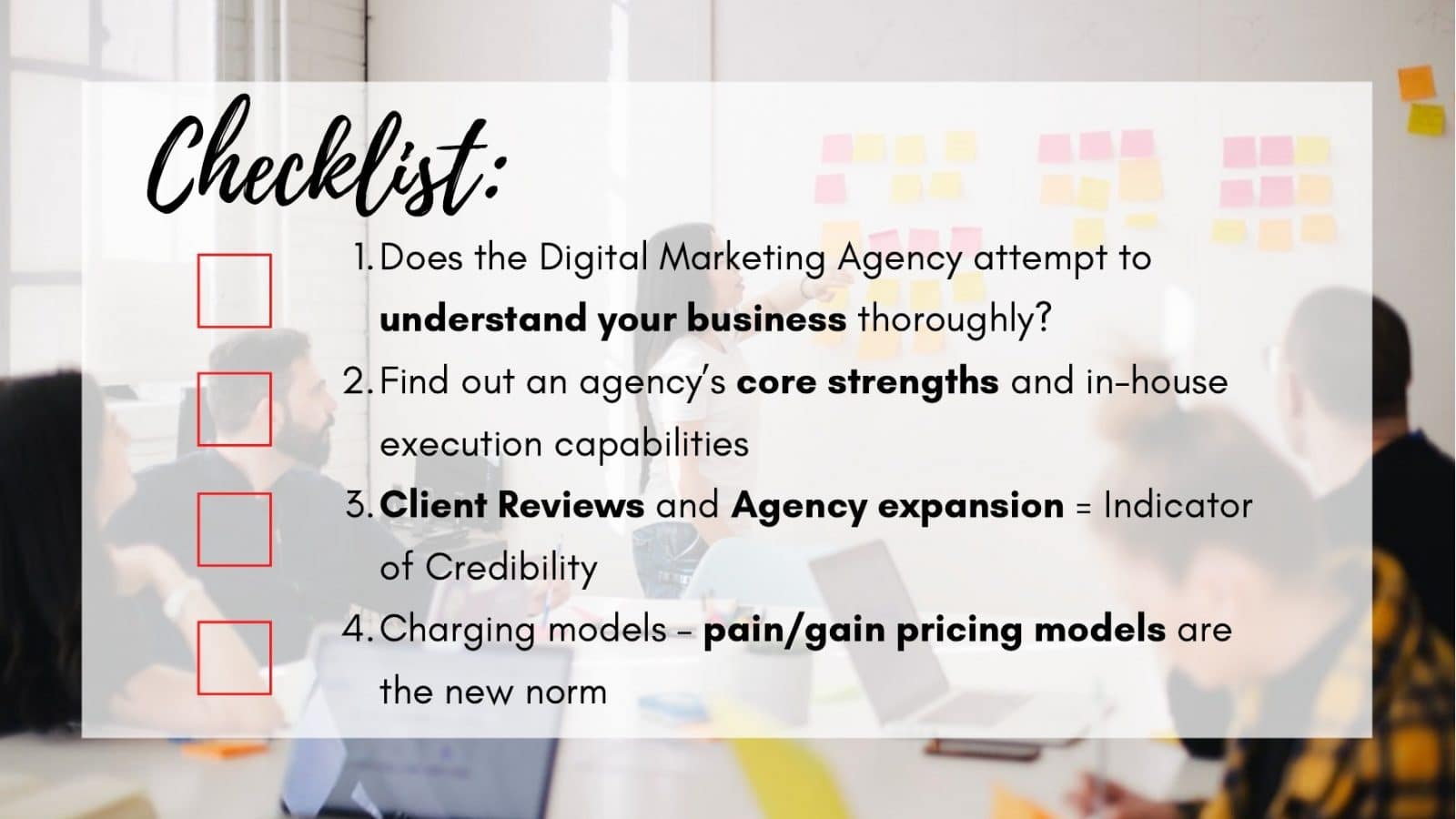 There are certainly more variables that are important to consider in regards to what is conducive towards forming a solid partnership with a potential agency, but for now, this should suffice to at least weed out 70% of all digital marketing agencies in Hong Kong that operate under confusing and 'less-than-transparent' models.
If you have questions or want to learn more about how we work at First Page, please do not hesitate to reach out to us. We are always happy to not only share our past results, but also to make sure that we can create an environment in Hong Kong where digital knowledge becomes higher to everyone's benefit in this exciting and ever-evolving space.