Does the Economic Slowdown in Hong Kong Impact AdWords Cost-Per-Click?
A Meta Analysis of 15 Hong Kong Brands with More Than US$800,000 in Combined Ad Spending
In the first two articles of this series we have looked into how marketers can analyse data to make better decisions during a slowdown and how they may want to adjust their messaging to stay relevant.
For this final article, we analysed the paid search (AdWords) data of a number of our Hong Kong clients to understand how 'cost per click' (CPC) is affected by the economic slowdown. Our hypothesis is that some brands may cut their budgets and reduce spending, and that as a result the cost for paid search advertising may also be reduced (so CPCs may drop). Read on to learn if that's the case and if so, how your business can benefit from that.
The Setup: Data Preparation
With this study we have taken a few steps to ensure that our findings are as accurate as possible. We have done the following:
Aggregating the total spending of 15 brands

that all have a significant and uninterrupted individual monthly spend on Google Search Ads (AdWords) in Hong Kong. The brands selected are involved in industries such as: consumer goods, education, industrial goods, finance, IT solutions and the medical sector. The total accumulated spending of all brands included in our analysis amounts to around 800,000 USD.

Understanding Long-Term Trends:

We have analysed CPC data dating back to January 2018 to understand if data from July and August 2019 is atypical and if one can observe a change that is potentially caused by the protests and the accompanying economic slowdown.

Cancelling out CPC changes caused by Quality Score fluctuations:

Quality score is an important factor that impacts cost per click. For those unfamiliar with the metrics: Google rates all keywords on a 'Quality Score' scale from 1 to 10. In the AdWords auction the quality score is used as weighting: Brands with a high quality score can win an auction against a competitor with a lower quality score, even if that competitor is making a higher bid for a keyword. As a result, brands that improve their quality score over time will see their CPCs reduced while getting the same, or an even larger number of clicks. At First Page we constantly take measures to improve our clients' quality scores to help them reduce spending. For our study we have just mathematically removed the impact of changes in quality score changes (

based on findings shared by wordstream

).

Cancelling out CPC changes due to budget changes:

Significant budget changes may also impact CPCs. An increase in budget may lead to more aggressive bids in keywords that are more competitive, which would then lead to an increase in CPCs (and vice versa). We have thus accounted for this effect in the setup of our study.
The Findings: July and August 2019 CPCs decreased by 19.51% on average compared to only 3.86% for the same period last year
Looking at the CPC changes of the 15 brands included in our study, we have found that from January to June 2018 the CPCs increased on average by 6.09%. A year later, from January to June 2019 average CPCs increased by only 0.71%. Overall a relatively small difference. Things however changed dramatically when comparing July and August 2018 with data from the last two months: Where CPCs dropped by -3.86% (on average) last year, the July and August drop this year was far more pronounced: In July and August 2019 the average CPCs of the brands included in the study dropped by 19.51% (-25% in July and -14% in August 2019). The chart below shows this.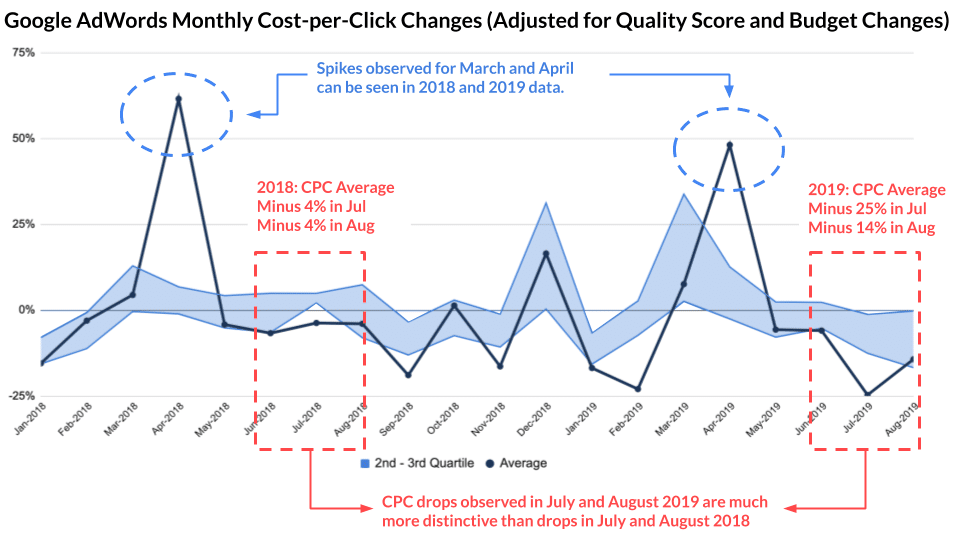 Source: First Page Analysis
Furthermore not only the averages dropped significantly this year, but also observations falling within the second and third quartile of the dataset (indicated in the light blue area chart) all dropped into negative territory, indicating that the average CPC decrease was not caused by outliers, but could be observed across the majority of brands included in this analysis.
The Takeaways: Smart Marketers Move Fast and Concentrate Spend on Channels that Make a Bottom-Line Impact
Over the last few weeks we have seen several larger clients cut spending in traditional channels such as TV and Out-of-home (OOH). This has largely been driven by the need to justify advertising spending and to demonstrate results to senior management. This analysis indicates that brands that have the flexibility to shift budgets may well consider shifting to Paid Search (Google Ads) as CPCs do seem to be decreasing in Hong Kong across industries (presumably as brands with less flexibility are reducing spending in this area).
Thus, whereas during normal times many Hong Kong marketers (rightfully) put a lot of emphasis on understanding the effectiveness of digital marketing efforts, during an economic slowdown the question really becomes: how can you justify spending on non digital channels?
With the severe drop in inbound tourism, and a general reduction in spending overall, fees charged for out-of-home advertising, such as billboards, or TV ads are oddly out of sync with the reality on the ground: Given the inflexibility of investment pricing in traditional media, shifting to digital channels that allow for virtually instant budget adjustments seems to be the more rational choice in a situation where forward planning is highly challenging.
We have observed a similar effect in the SEO space as more and more brands seem to realise that organic traffic can help them weather the storm without having to break the bank.
Last but not Least: The Case for E-commerce in Hong Kong
Hong Kong retail brands have been notoriously slow at launching their e-commerce operations. For years the argument was: "Why invest in e-commerce, Hong Kong is such a small city, it's convenient for people to buy things during their lunch break or on the way home."
Although we understand the logic of this argument, we believe it to be fundamentally flawed: for most retail brands, a significant share of revenue is generated by tourists from Mainland China. This has turned Hong Kong into "the world's most visited city" and as a byproduct inflated demand. This demand inflation has been accompanied by rent increases that have turned Hong Kong into one of the world's most expensive places to operate a retail business. High rents equal high fixed costs and in times when brands need to reduce costs this can prove to be a major liability. According to media reports, even Prada is closing its Causeway Bay store despite being offered a 44% rent reduction.
As a result, more and more Hong Kong brands are starting to explore setting up e-commerce operations. Not only are e-commerce operations less capital intensive in the long-run, with platforms like Shopify reaching maturity, operational complexity has fallen and overall upfront investment requirements are only a fraction of what they used to be in the past. In fact, launching a fully functional Shopify store costs a lot less than the average monthly Hong Kong retail store rent.
Once an e-commerce website is up and running (it only takes 6-8 weeks on average), Hong Kong consumers can be targeted and – once they have made their first purchase – be retargeted in a cost effective manner via email and SMS.
Takeaways: Smart Brands will not only Survive but Come Back Stronger
Our three article series has indicated what it takes not only to survive the crisis, but to grasp the opportunity and move ahead of the pack: start by digging into your data, understand how customer behaviour is changing, and segment out those who are in fact adjusting their behaviour.
As a next step, ensure that your brand messaging is relevant. Understand customers' pain points and launch creatives that speak to them and not to the jury of an award board! As a final step: review your channel strategy. Are you spending your budget on channels that are enabling you to gain market share? If budgets are large, SEO may be the way to go, but as this article has shown, for brands with budgeting flexibility Paid Search may be a great opportunity to acquire customers in a cost effective way.