Perfect Your Email Marketing Strategy Now
Email marketing is the most powerful of digital marketing tools. Yes, Emails you read that right. They might not be the sexiest thing in your marketing strategy. The thing is though, they still make the most money. In this post, we are going to share some awesome email marketing content tips.
Did you know, that for every $1 you spend on email marketing, you can expect an average return of $36! That is if you run an email campaign correctly. However, you aren't the first person to join the email party.
Your customer's inboxes are filled with offers, promotions, news, and events. How are you supposed to cut through the noise and get your emails open, and read? Here are 3 simple tips to make that happen.
1. Must email marketing be simple?
A successful email marketing campaign starts with knowing precisely what it is you want to achieve. Are you trying to get customers to buy products from your eCommerce store? Do you want to inform them of an upcoming sale or promotion? Are you motivating them to sign up for a new service that you're offering? Your email marketing efforts need to tie in with your overall marketing strategy.
The entirety of your email should reflect your established goal while remaining as simple and clear as possible. Sending an email that's packed full of information is unlikely to hold your audience's attention. According to research by Jakob Nielsen, people will only read approximately 20% of the text on a page.
To counter this, imagine you're writing for a busy person skimming over their emails. They could be on their commute to or from work, or scrolling through their inbox over a cup of coffee. You want copy that's short and punchy while still being engaging for your email marketing. Don't use long paragraphs or sentences. Instead, break your text up with subheadings and bullets, allowing for easily digestible, bite-sized pieces of information.
Finally, make your call-to-action obvious. Include a button with a clear call-to-action in your email, or use a noticeable link.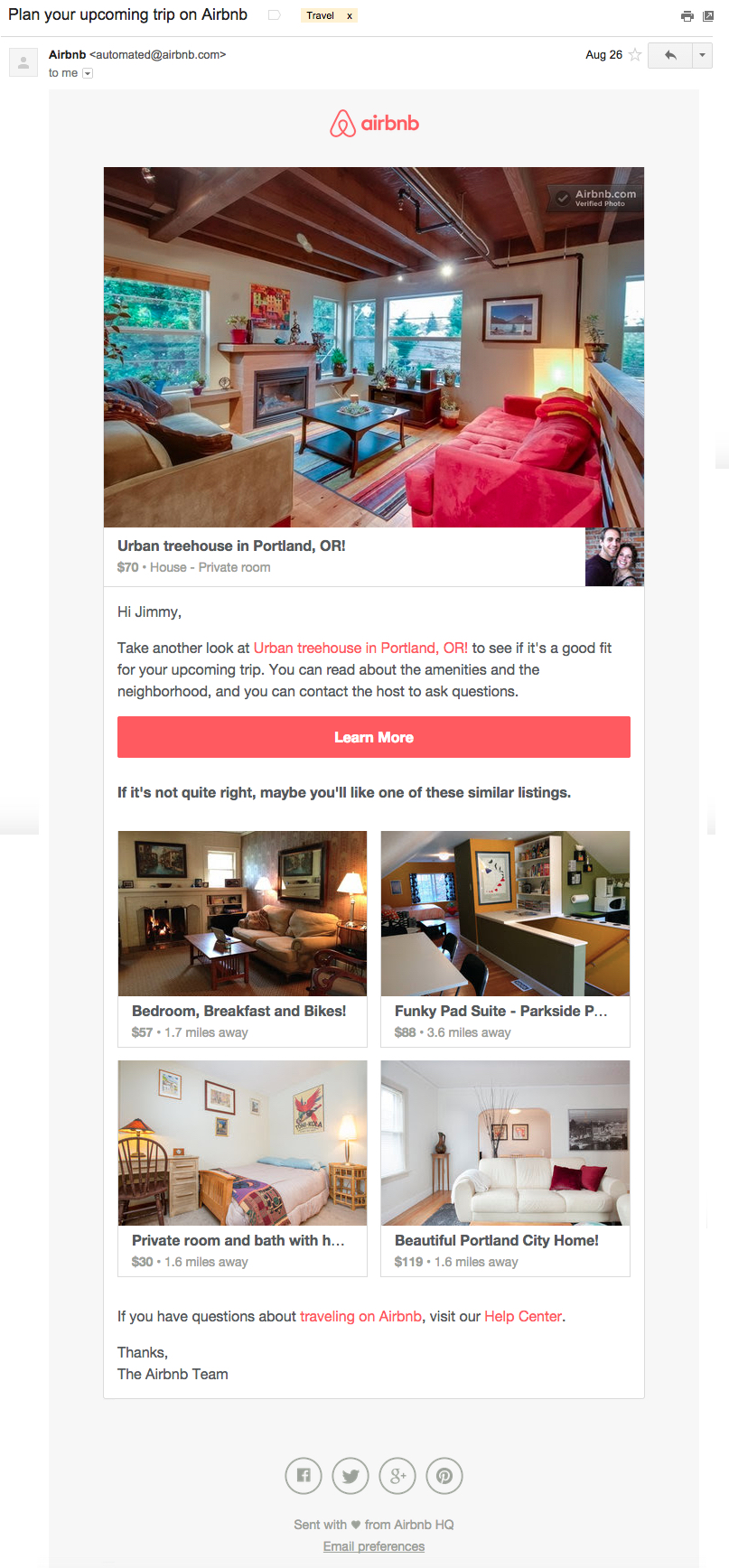 Take a look at this prime example from Airbnb. This email is short, sharp, and to the point. Users can easily skim through the information. Also, the email is complemented by clean, visually appealing graphics and concluded with a pronounced call-to-action button.
2. Should a subject line be irresistible?
47% of email recipients decide whether or not to open an email based on its subject line. So, yes your subject line needs to make an instant connection. There's no point in crafting powerful copy if your users engage with your email marketing. It is rare to have a loyal, established following who open every email from you. An engaging subject line is how you get people interested. It's what motivates your subscribers to click on your message in their inbox.
A subject line has to do several things simultaneously: intrigue the reader, convey the purpose of the email, reflect your brand's personality, and prompt the reader to take action. Writing an effective subject line can sometimes be the hardest part of writing an email. Getting the subject line with is one of the great email content marketing tips of all time!
So how exactly do you write the perfect subject line? Well, you can approach it from several angles, such as:
Instilling a sense of urgency
Subject lines that include words like 'urgent', 'important' or 'breaking' are proven to increase clickthroughs. Achieve this by stating an offer is valid for a limited time only or saying that x product is close to selling out.
Example: "[WEEKEND ONLY] Get this NOW before it's gone…" (Digital Marketer)
Piquing your user's curiosity
Ask a question in your subject line that can only be answered by opening the email, or share something unusual so that your reader just has to know what it means.
Example: "A faster donkey" (The Hustle)
Providing a solution to a problem
Determine what your user's pain points are, then craft a subject line that promises to fix their issue.
Example: "Your beauty issues, solved" (Sephora)
Retargeting your customer
A highly effective way of reminding a user that they've failed to complete an action is to give them something that motivates them to return to it.
Example: "The price dropped for something in your cart" (Target)
Another important thing to take note of is to ensure that your subject line is relevant to the email copy. Don't make a clickbait subject line to lure your subscribers in. While this may drive engagement temporarily, it will ultimately result in your subscribers losing trust in you and decreasing your clickthrough rate. Keeping your clickthrough rate high will add so many more conversions to your marketing strategy.
3. Can you keep your email marketing mobile-friendly?
Optimizing email content for mobile devices is absolutely essential if you want to boost your clickthrough rate and drive engagement. A massive 88% of users actively check email on their phones, so failing to optimize for mobile would mean losing the majority of your audience.
When creating an email for mobile, keep your subject line short. Data shoes, a typical desktop subject line displays approximately 60 characters while a mobile device shows only 25 to 30 on average. Use larger fonts for ease of readability, and make sure your call-to-action is clearly visible. Stick to single-column layouts and use images sparingly, as many email readers will often block images by default.
An oft-overlooked benefit of mobile is that you essentially get a second subject line known as pre-header text. This is the short description below your title on the main screen of an email reader and can function as another "teaser" to further grab your reader's attention. This is the perfect place to outline what your email is about and tell your subscriber what they can expect to see if they click on your email.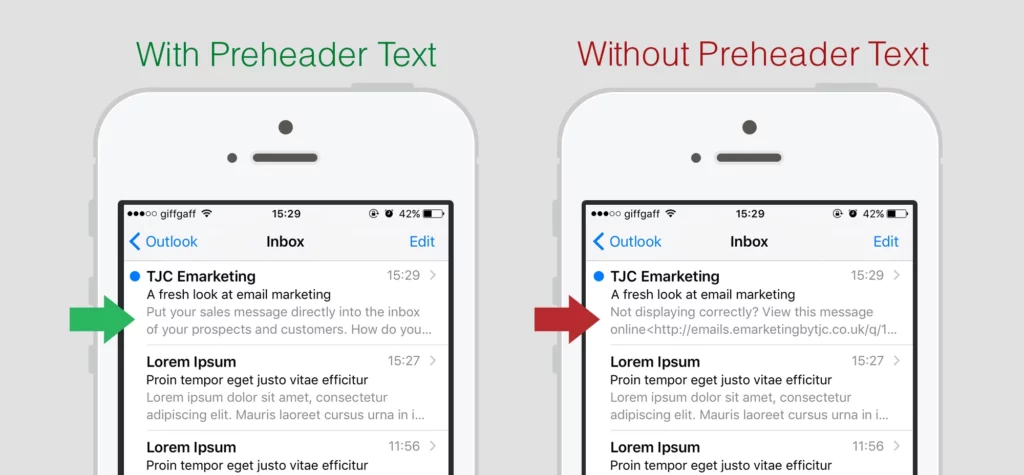 A final point to remember about optimizing for mobile is that your viewers will only see a segment of your email due to the size of a smartphone's screen. Be strategic in your design and include your most important takeaway "above the fold", where your readers can easily see what the email is about without scrolling down.
Final thoughts on email marketing
The next time that you go to craft an email to your subscribers, make sure to keep these three simple tips in mind; we guarantee that you'll start seeing tangible results in your clickthrough rates before you know it.
While email marketing is extremely competitive, these 3 tips will help give you an edge so your emails actually get opened (so you can increase your sales). It will enhance conversions from your overall marketing strategy too. Remember these email marketing content tips are just a start. Keep on top of your email marketing analytics. You can then optimize your emails accordingly.
If you need any help or have any questions about your email marketing, we invite you to check out our email marketing services. Alternatively, you can reach out to us to speak with a Digital Strategist about your email marketing options for your marketing strategy.