The Ultimate Guide to Instagram for Businesses: Part #2
Welcome to Part #2 of First Page's Ultimate Guide to Instagram for Businesses. If you want to learn how to craft an effective, high quality Instagram profile for your brand, you've come to the right place.
Every business has the potential to reap enormous benefits from Instagram, and whether that's increased product sales, website traffic, brand awareness or customer loyalty, the social media platform can help you achieve it all based on how you tailor your content. With 80% of users following at least one business on Instagram, now is the time to create or optimise your strategy so you can start seeing results.
Last time, we covered how to set up and optimise your Instagram account for business as well as providing an overview of content production, goal-setting and using analytics to measure effectiveness. In Part #2, we'll dive into how to create content that's consistently of the highest quality and attracts engagement.
Make sure to check out Part #1 before reading on — otherwise, enjoy these tips that will help make your brand stronger than ever.
Build Your Brand
As we outlined in Part #1, having a consistent and attractive Instagram feed boosts your potential for engagement and growth while reinforcing a sense of brand identity. This makes your business memorable and identifiable to customers, who build a perception of your brand based on how it's presented online. A good online presence translates to a good reputation, which your customers know they can trust and recommend to family, colleagues and friends.
Photography
The first step to a good-looking Instagram feed, of course, is good-looking photos. You don't have to be an expert to take visually appealing snaps for Instagram, but it's helpful to keep some basic tips in mind when you're capturing photos.
Instagram is a mobile application, so naturally you'll be taking most photos on your mobile device. Smartphones generally have an incredible capacity for capturing high quality photos, and for Instagram, high quality really does matter. No one will interact with a pixelated, blurry image and even if they do, it doesn't look good for your brand. Use a device with a good camera and ensure you're shooting with a steady hand.
Lighting is incredibly important when it comes to capturing great photos. Try to shoot so that light is filtering onto your subject from behind the camera rather than shooting a subject directly in front of light. Taking a photo with sunlight in the background can result in overexposure. If you're really interested in lighting to create beautiful photos, shoot at either the golden hour that occurs each day after sunrise and before sunset. In addition, this is a great article about Hong Kong's unique blue hour.
Rather than aiming to take one perfect photo, make a habit of taking several shots. If you take ten to fifteen photos of the same subject with slight variations in each one, you'll be sure to find an image you think looks great. There's nothing more disappointing than reviewing your photos and seeing that they're blurry or simply look bad, so taking a variety of photos fixes this problem.
For some inspiration, check out @airbnb's Instagram. The brand's feed showcases beautiful images from all across the world, with many taken by globetrotting users.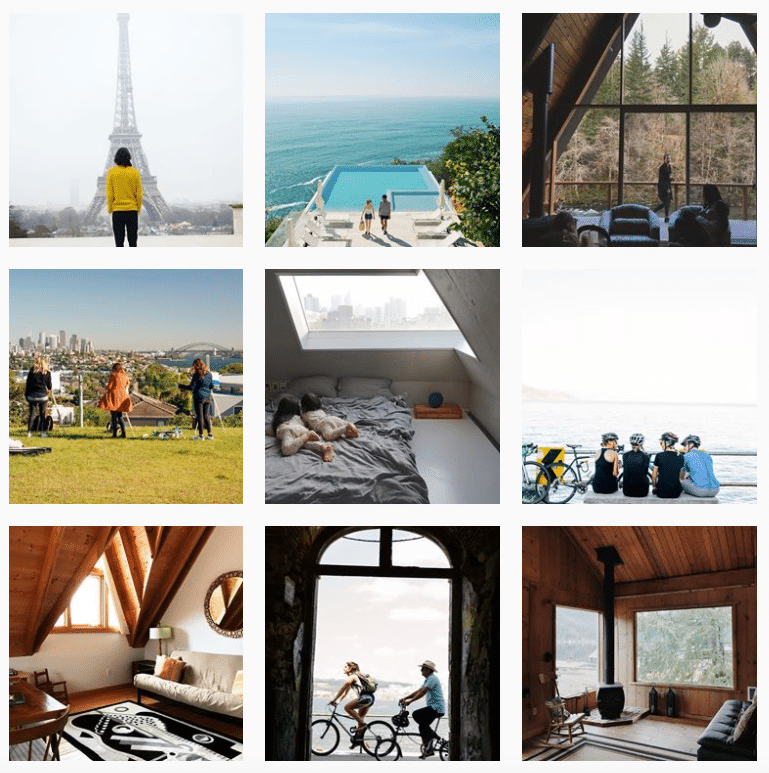 Image Editing
Having some decent image editing skills up your sleeve can transform even the blandest photo into something stunning that will wow your followers. If you're in need of an app to make your photos Insta-worthy, look up some of the ones listed below.
VSCO

: Offering a massive variety of professional-looking free and paid filters, VSCO is one of the most popular tools in an Instagrammer's library. The app is basic and easy to use while producing incredible results.

Afterlight

: Afterlight is another must-have Instagram editing app for its range of filters. It offers a range of basic editing tools and a fusion tool that lets you blend your favourite filters together.
如何處理圖片的示例

Create Engaging Content
So, you've learned a few new photography tips and have set yourself up with some fantastic editing apps. Next comes the most important part that will truly set you apart from your competitors: your content. This part is fun as it allows you to get creative. There are so many ways to create engaging content, a few of which we'll detail below to get you feeling inspired.
Go behind-the-scenes
Sharing the day-to-day happenings of your business gives your brand a face, making it more relatable for customers. It's an effective way of fostering a personal connection between you and those who follow you. Some good examples of "behind-the-scenes" content include:
Sharing an 'Employee of the Month' photo, where you do a spotlight post on a member of your team explaining what their role is, what they're passionate about and a quirky or fun fact about them.
Photos of team members busy at work, in a meeting, brainstorming or giving a presentation.
Conversely, photos of the team having fun! Don't forget to take some snaps at your next team event as these are fantastic for sharing on Instagram with your audience.
If you have a dog-friendly office, you can easily do a 'Pets of the Office' feature every few weeks. If you don't have an office pet, ask staff members to send their favourite photos of their furry friends for you to post on Instagram.
Google has the right idea: drive engagement with a cute office pet photo and caption.
Quotes and typography
Quotes and typography-based posts are a simple way of boosting engagement while building your brand identity. Create your own quotes and include your brand's logo somewhere on the image, so that if your content is reposted people will know where it's from and potentially visit your feed or website. Some quote ideas are:
Quotes from industry leaders, celebrities or historical figures that are relevant to your brand.
Funny quotes and memes that are relatable to your target audience. These are particularly effective at driving engagement, since many viewers will tag their friends in the post so they can share it with them.
Quotes based around holidays, events, current affairs of days of the week. There's a reason that those TGIF posts you see on Insta at the end of every week keep appearing — it's because they work!
Check out this great example of a quote-based image from ASOS.
User-generated content
An excellent way of building up a community around your brand is by sharing content that users have posted in relation to your products or services. If a user tags your business in a post, repost it to your own profile with a fun comment or a thank you message. A brand that particularly excels at this is Frank Body, whose Instagram feed regularly features happy clients using their products.


You can take user-generated content one step further by creating a branded hashtag, which encourages users to share their experience with your product or service and spread the word. Let's use Frank Body as an example again. Their branded hashtags are #letsbefrank and #thefrankeffect and when you search these on Instagram, you can find an entire community of Frank Body fans. Many users will use the hashtag to be featured on the brand's Instagram, which benefits both the brand and the follower in terms of exposure. Plus, user-generated content has a 4.5% higher conversion rate than posts made by a brand, which increases to 9.6% if the visitor interacts with the content.
Themed hashtags
While we're on the topic of hashtags, let's talk about how they are one of the most powerful aspects of Instagram.  Keeping up to date on which hashtags are trending could help you attract new customers, since hashtags allow non-followers to find your content through Instagram's search feature. Furthermore, posts with at least one hashtag average 12.6% more engagement than those without.
If you're ever stuck on ideas for content, hashtags themed around every day of the week give you something to post about while increasing your chances of exposure and new followers. You'll probably have heard of #ThrowbackThursday from browsing Instagram, so here are some other days of the week you can use to theme your content around when you're running low on ideas.
#MotivationMonday, to help your viewers (and yourself!) get a bit of a boost on their dreaded Monday morning. Or, if you're not feeling so positive, #MondayBlues has got you covered. Cue photos of coffee cups, sleepy faces and places you'd rather be.
#TakeMeBackTuesday, where you can reflect on a past event you've experienced and long to relive. If applicable, make this relevant to your business by sharing an event you've done as a team. If you're a technology company, you can use #TechTuesday or #TipTuesday to give your viewers some helpful information about your gadgets or products.
Halfway through the week, users share their happiness in reaching the middle of the week with #WednesdayHumpDay. Some other options are #WomanCrushWednesday, #WisdomWednesday and even #WineWednesday.
#ThrowbackThursday (often shortened to #tbt), #ThankfulThursday and #ThirstyThursday are hashtags you can use on the most popular day for posting on Instagram.
It's the end of the working week and everybody is starting to wind down. Make the most of the good vibes with a #FridayNight tag, giving people a suggestion on what to do on the first few hours of their weekend. Otherwise, share a pic of some team members at the office or out at lunch for #FridayFeeling.
The weekend is pretty straightforward. The most popular hashtags for Saturday and Sunday include #SaturdayMorning, #SaturdayNight, #SundayMorning and #SundayMood. Think brunch, beaches, forests, dogs and bed.
Next week, make sure to check out the final instalment of First Page's Ultimate Guide to Instagram for Businesses. In the last portion of this series, we'll examine how to boost your follower count and maintain a strong Instagram presence while consistently growing your engagement and reach. For now, head back to Part #1 or read about the 5 Hong Kong Influencers You Need to Follow on Instagram.