SEO Page Title Tips: How to Write Irresistible Page Titles to Make People Read More
In this part 1, we're going to be discussing everything to do with page titles. If you want to learn about meta descriptions, read part 2. We will be covering some SEO page title tips to draw people in to want to read more. Writing good page titles is one of the key things for a blog or web page to be successful.
People always preach that you shouldn't ever judge a book by its cover… but we all know that the cover is extremely important for getting people's attention – the same goes for page titles and meta descriptions.
In fact, while your page titles and meta descriptions are only a few words – they have a disproportionately large effect on the success of your website.
When scrolling down the SERP (search engine results page), these are the only two things you'll have to decide whether to click on a page (aside from its URL). When you've got several other pages all competing to grab the user's attention, you need a quality page title and meta description. They need to be compelling, irresistible, and concisely to give the searcher an understanding of exactly what your page offers them. 
At the end of the day, the ultimate goal of page titles and meta descriptions is to drive clicks.
Apart from the obvious impact these two web attributes can have on users' browsing search results, they can also play a role in SEO and how search engines like Google understand, and subsequently rank, your page. 
Some quickfire statistics on titles & meta descriptions: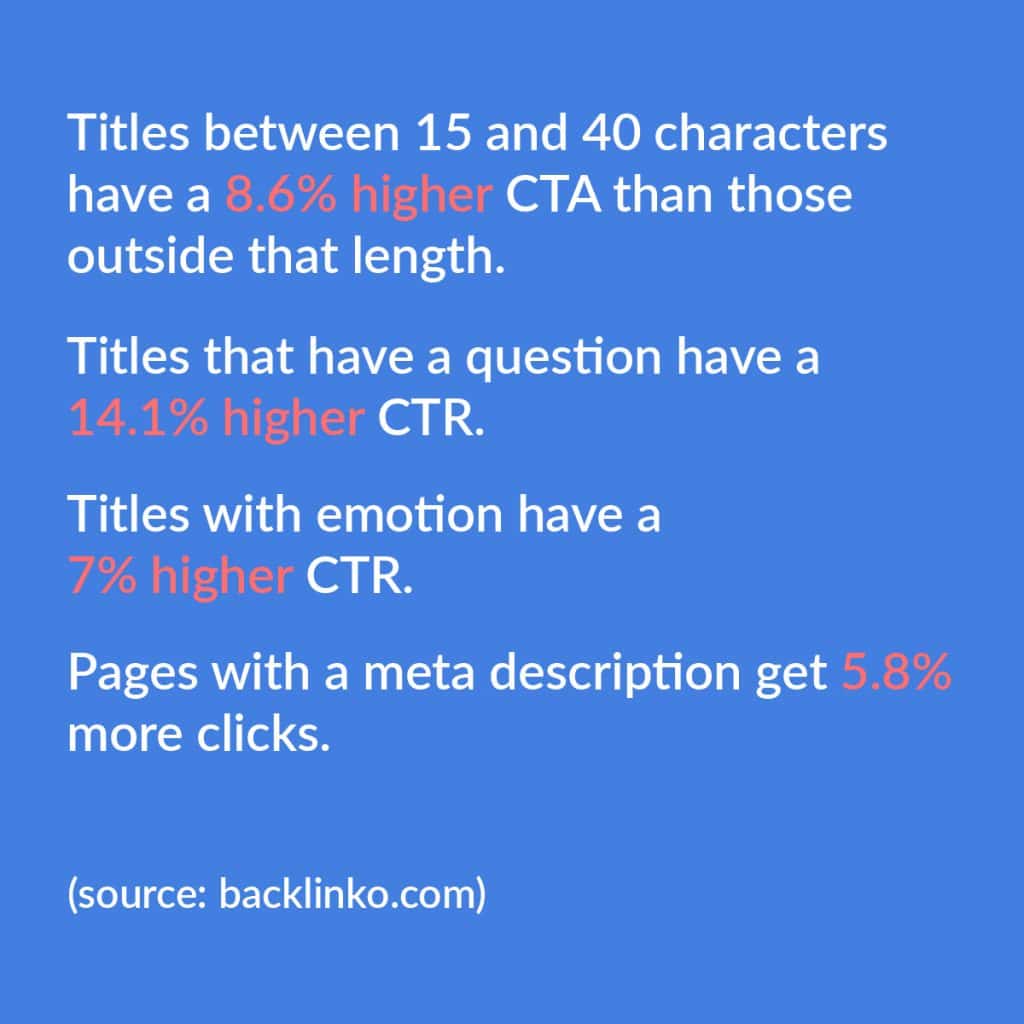 But before we dive deep into the science of page titles and meta descriptions… what exactly are they and where do they appear?
The SERP is a list of top results given to you by your search engine based on your search query. The page title is the header tag (usually in blue), and the meta description is the sentence or two below it.
For example:
5 SEO page title tips that will be irresistible
Page titles aren't too dissimilar from your typical headings – they serve one purpose, which is to engage readers and grab their attention. Page titles are vitally important as they show on the SERP, web browser tabs, and social networks. Here are our SEO page title tips!
#1 – Why must you keep it SEO friendly?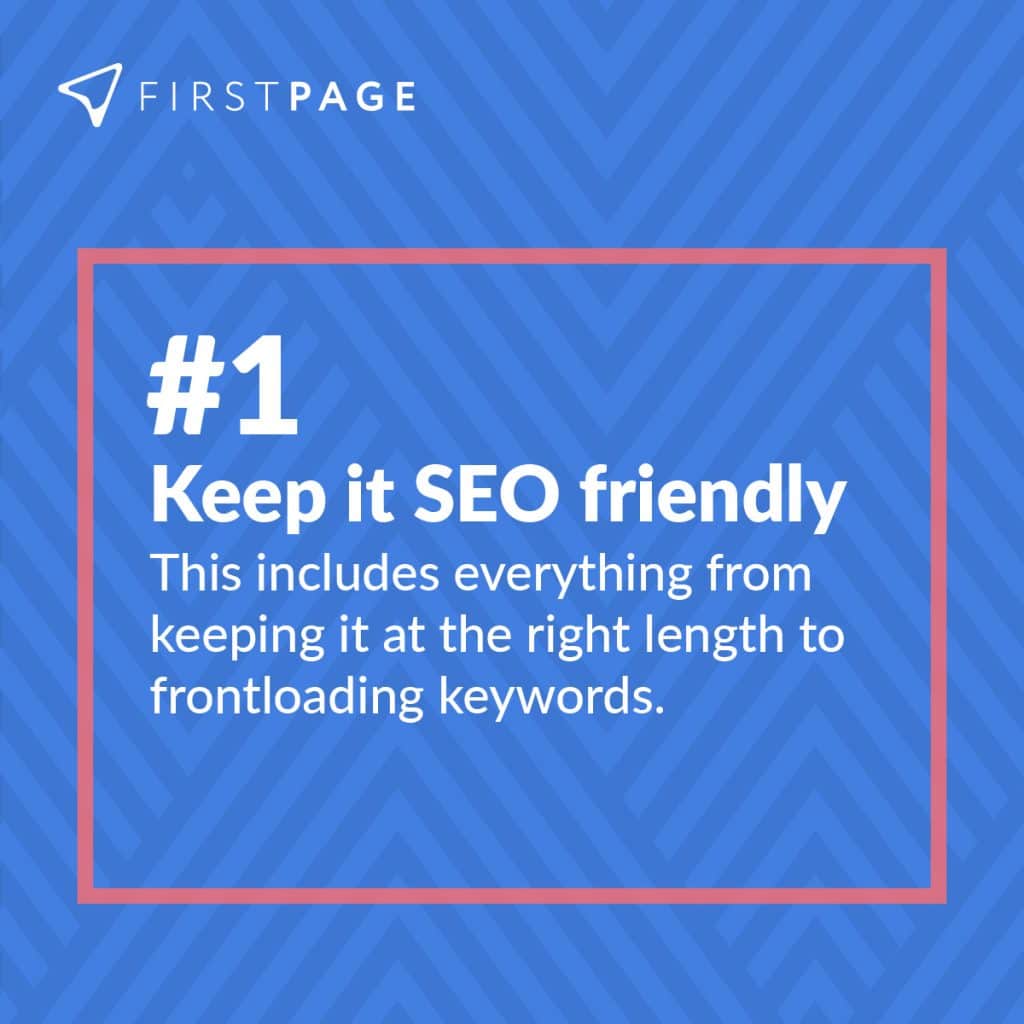 According to data from Backlinko, titles that are between 15 and 40 characters long have the highest CTR (click-through rate). This suggests that absolutely maximising the upper limit for length, which is 50-60 characters before getting truncated, isn't necessarily beneficial. Rather, keeping it at an approachable length allows readers to instantly read and comprehend it.
For example:
In addition to length, one of the biggest parts of keeping your page titles SEO friendly is including keywords. For every page in your website that you would like to rank highly on SERPs, you should have a set of designated target keywords. By including your primary keyword in the page title, you'll help search engines understand what your page is about and give it a boost in the rankings.
In addition to this, if a searcher has searched for a specific keyword and sees it in your title, they will immediately see its relevance and have a much greater chance of clicking onto your page. Because of this, it's typically a good idea to frontload your target keyword so it's what they see first.
However, as with most aspects of SEO, don't force it if it doesn't comply with user experience guidelines. Google, along with other major search engines, look for quality content over all else.
#2 – Why is it important to be specific?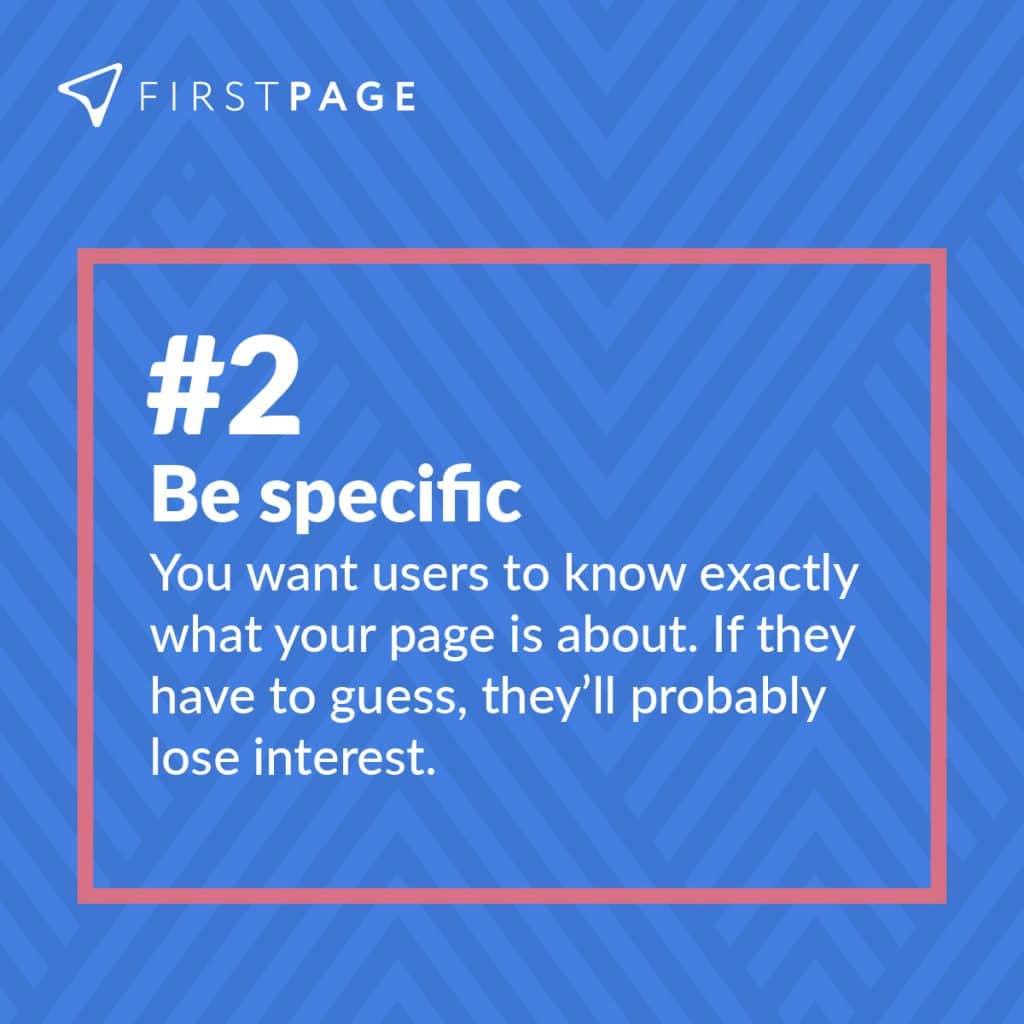 Without clicking into your page, the reader will only be able to see your page title and meta description. Especially with page titles, since you have only a few words to work with, it's vital to be specific and concise.
The aim is to engage with the readers, catch their attention, and convince them to click on your page. Being specific is a huge part of this – if the reader knows exactly what your page offers, they could become interested.
If, on the other hand, they don't understand what your page is about, there's a high chance they will simply dismiss it and go to the next result.
#3 – Should you put yourself in your reader's shoes?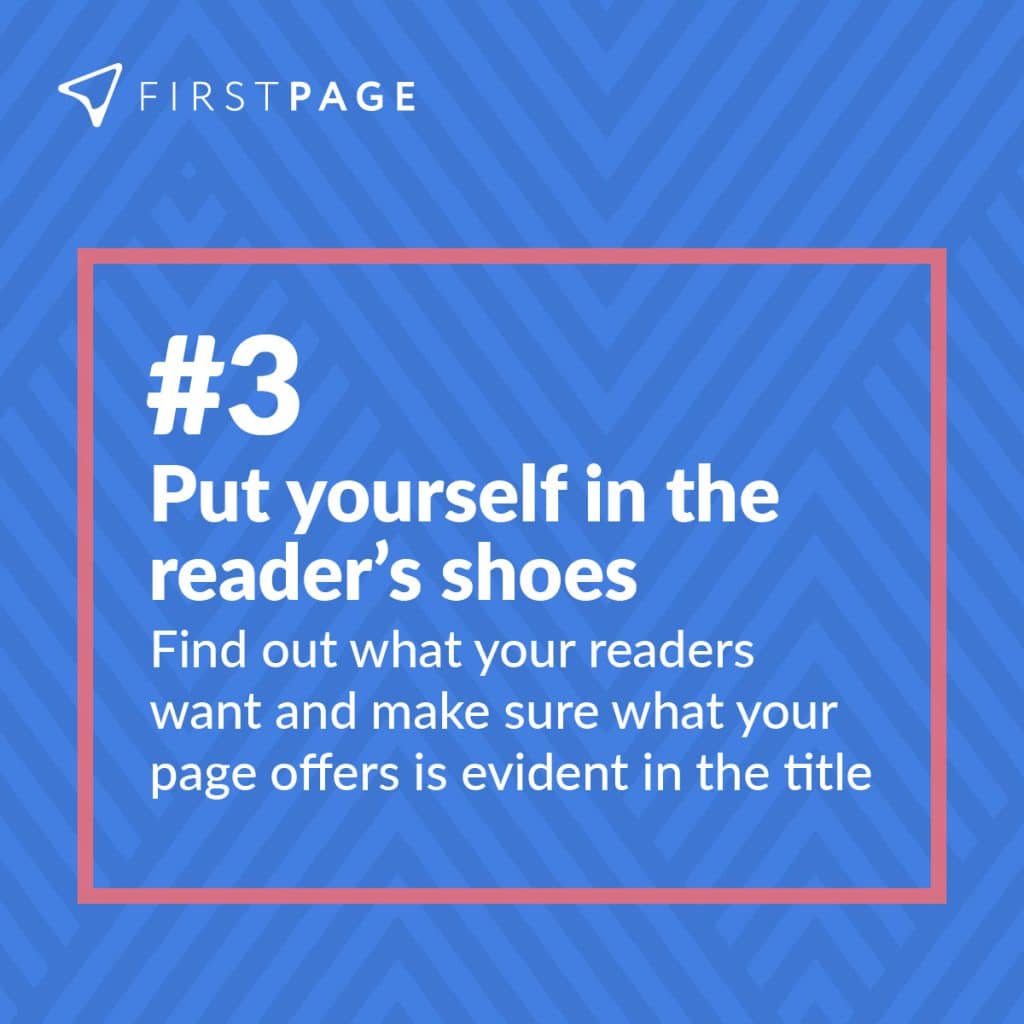 The world of SEO is competitive. Oftentimes, it isn't enough just to have good content – you have to brand it in a way that allows it to be discovered and found by searchers. 
One of the best ways to do this is to put yourselves in the shoes of your reader. Ask yourself:
"What would you want to read if you were searching for ____?"
"How can this content benefit those searching for ____? What answers does it give them?"
"What pain, inconvenience or annoyance does my content relieve? Or in what way does it make a searcher's life better?"
When doing this, remember that all content has a purpose – you need to understand what the purpose of your content is and angle the page title in a way that complements this.
#4 – Is there a need to be persuasive?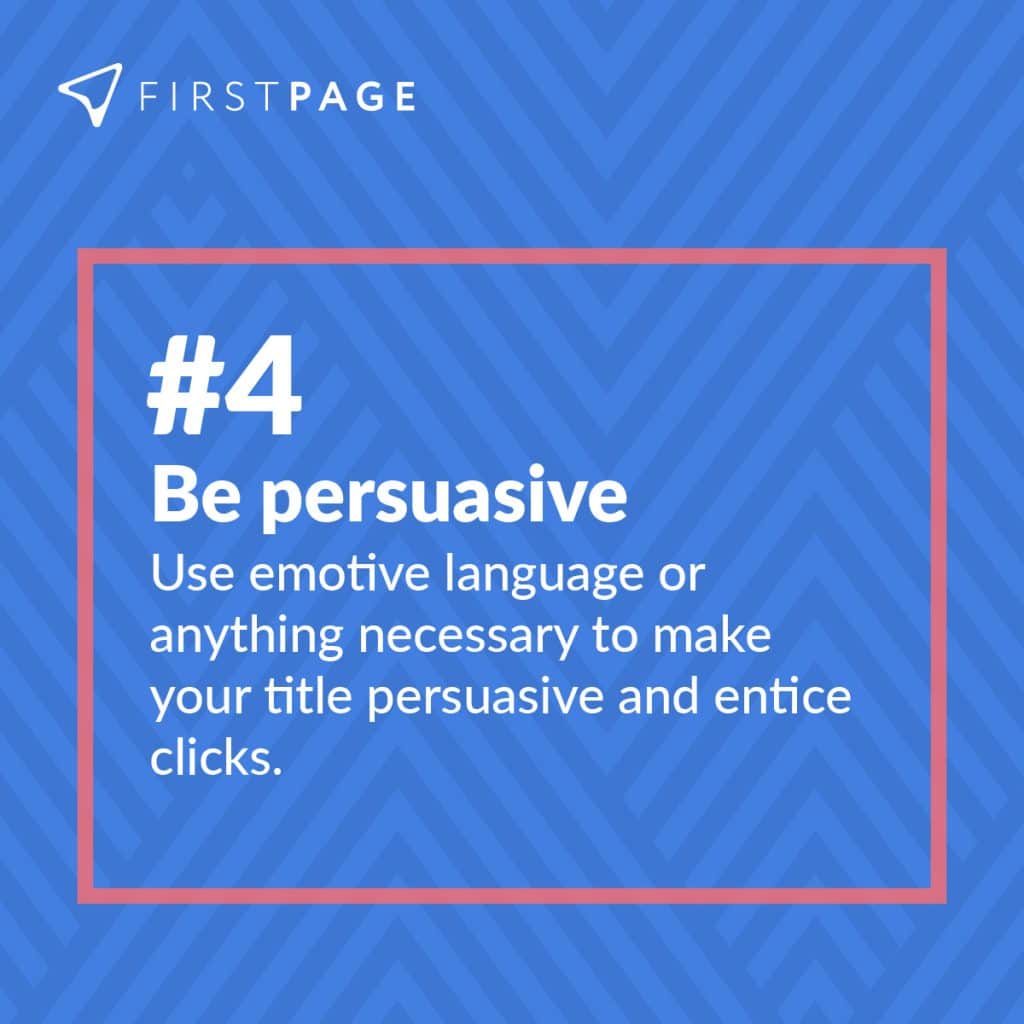 Title tags are the first interaction people will have with your content. A poorly written title tag won't persuade or convince people to click on your page – so understanding what gets people interested is key. It is crucial to get this right! It is one of our most important SEO page title tips.
Try to use emotive language where you can. From Backlinko's study, we can see that titles with emotion display a 7% higher CTR than those that don't. Refer back to our previous point about putting yourselves in your readers' shoes, and try to imagine what emotions they're feeling as they search for your target keywords. After this, crafting your title becomes much easier and more efficient. 
Other than this, it's vital that your title reveals and reflects what your page actually offers. Depending on the type of page you're writing the title for, they are either looking for answers (informational pages), looking for an interaction with the website such as buying, downloading etc (transactional pages), or looking for a specific page (navigational pages). Use this understanding to your advantage.
#5 – Make use of crooked numbers and symbols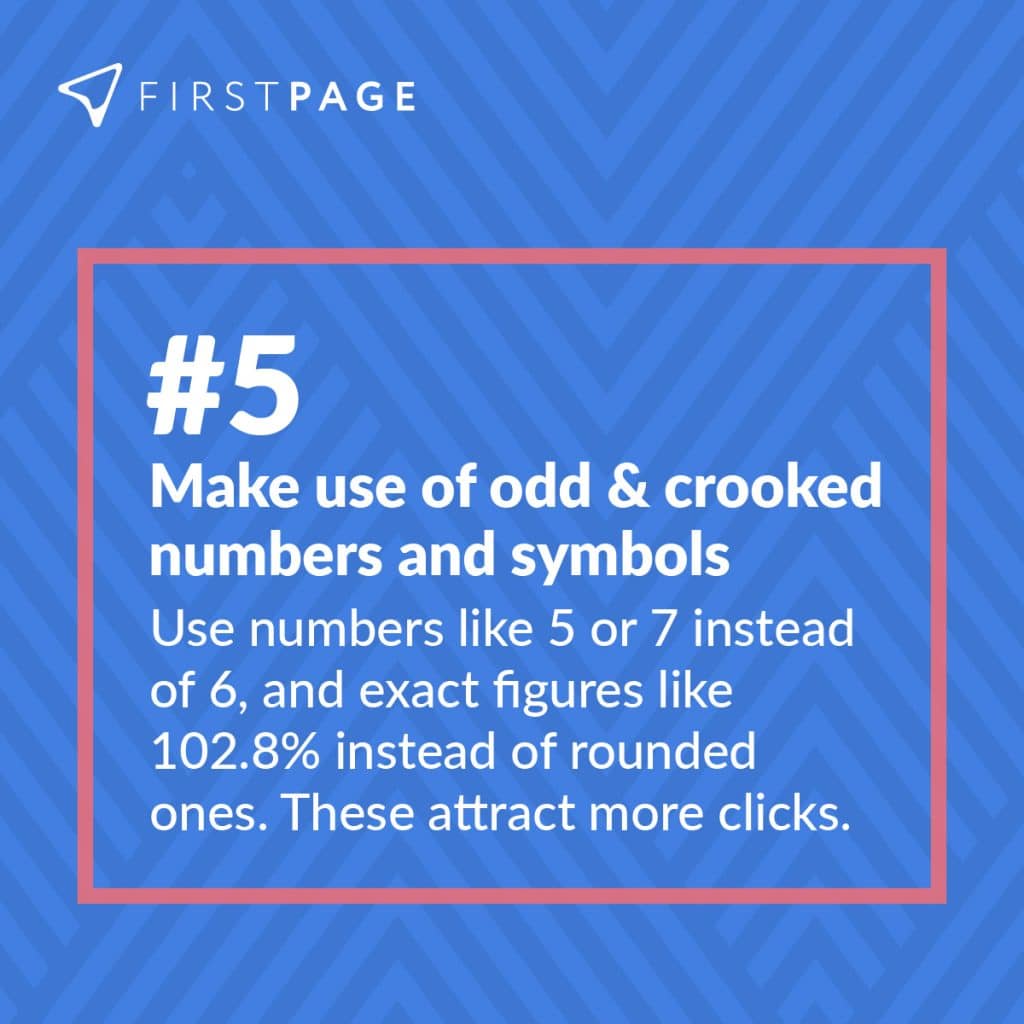 The term crooked numbers refer to numbers that are odd or strangely specific. Due to the way we interpret data, these numbers seem more believable at a quick glance – which is exactly what people will do to your titles. For example, if your page is a listicle, there is statistical evidence to suggest that odd numbers, especially 7, have a much higher CTR than even numbers like 8 or 6. To add to this,  
In addition, using symbols where possible can make more eye-catching headlines. Think about using symbols such as #, &, and more. 
In closing: What we want is for you to start writing good page titles!
In summary, using these tips will allow search engines and internet visitors to immediately comprehend the meaning of your content.
Now that we've provided some principles, there's no excuse for not examining and optimizing your page names. If you already have optimized page names, consider improving them using the approach described in this post. You might be shocked to learn that changing a few words will enhance your CTR.
If you are too busy to produce great page titles, please check out our SEO services! Alternatively, feel free to have a non binding SEO consultation today!