Marketing for Luxury Brands: Strategies & Trends
Luxury brand marketing is ever-evolving. Consumer habits change; industries rely heavily on precarious market forecasts and trends, and business decisions now revolve around data in order to minimize risk.
Mobile marketing for luxury brands is crucial to ensure that these brands can stay afloat. As well, factors with the innovation of day-to-day business operations are constant.
Just as is the way transformation is happening with how consumers interact with a product. Marketing and online marketing of luxury products is, understandably, constantly adapting to these changes.
In this post, we will explore the why's and what's of how luxury brand marketing strategy is changing. Read to learn more about how a luxury brand needs to adapt to an ever-changing target audience.
What is behind all these changes?
A luxury brand and how it does its online marketing of luxury products needs to change – and for good reason. Luxury brand marketing strategy seemed to work, and customers are usually already in the decision stage of the buyer's journey.
This means that these customers know what they want, where they want to buy, and how much the price tag is. Having a clearly defined demographic for your product or service means allocating fewer resources to figure out what your target market is. However, times are changing.
One variable which has been left unaccounted for, and brought about by the ever-changing landscape of business, is influence.
In the digital age, where people are becoming more and more connected, marketing has evolved into more than just getting a company's message out. It's now about pulling your consumers in. This now needs to be considered by a luxury brand.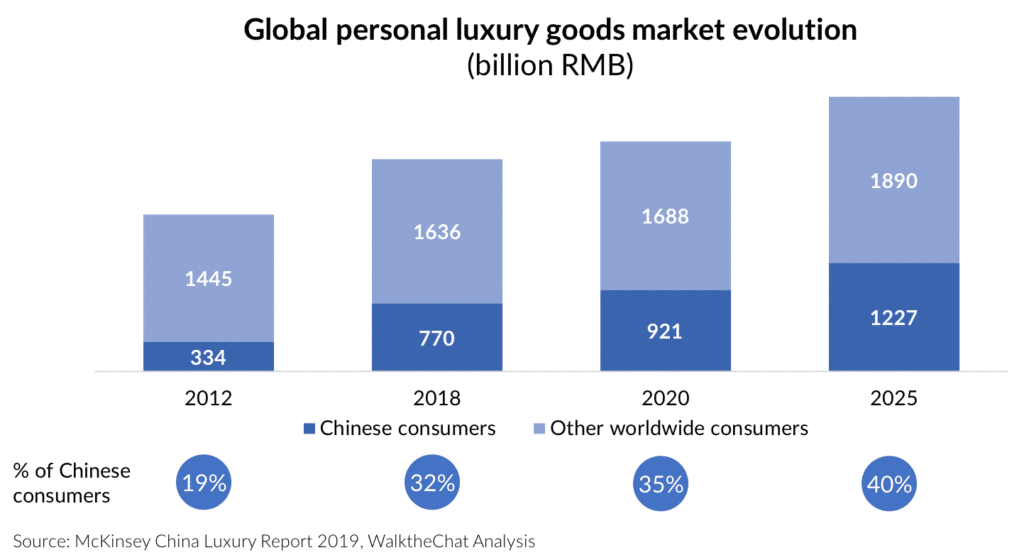 Is this a problem for luxury brands?
This has never been a problem for luxury brands. For the most part, luxury brands have banked on their bubble of exclusivity. In the past, most luxury brands have relied heavily on traditional marketing campaigns to raise brand awareness.
This means absurd amounts of spending on TV, radio, and print advertisements. Now that the landscape is becoming digitized, luxury brands are following suit.
A 2018 study by McKinsey found that mobile marketing for luxury brands is crucial. The importance of digital marketing can not be understated. Moreover, listening to what customers are currently engaged in is also key.
In the same study, online sales of personal luxury goods (accessories, apparel, beauty products, perfume, footwear, and leather goods) account for 8% of the global luxury market with nearly 80% of the total luxury sales being influenced online. In the era of social media, email, and influencers, relevance is now more important than reach.
So how should luxury brands adjust? Should online marketing efforts of luxury products be entirely digitized? Or should efforts of online or mobile luxury marketing for luxury brands be incremental to better measure results? Unfortunately, the answers aren't so simple.
But first… what exactly is digital marketing?
Digital marketing refers to a business's online marketing efforts. According to HubSpot, businesses utilize digital marketing as a tool to interact and nurture a connection with current and prospective customers.
Digital marketing provides businesses with a more targeted approach to better cater to the needs of their client base.
Digital marketing presents businesses with multiple channels to attract the interest of potential customers. Businesses will be able to create custom-made campaigns. These will be campaigns that consumers value.
With online luxury sales projected to triple by 2025, digital marketing is a huge force that has become difficult to ignore.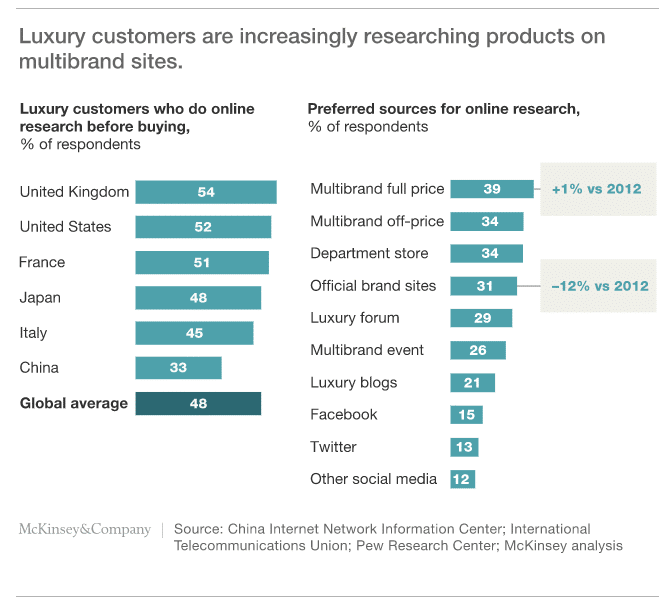 You could be developing a marketing strategy from the scratch. Or you could be revamping your online marketing of luxury product efforts. Here are a few things you need to know.
What should you know about your market?
Luxury brands have been known to target high-net-worth individuals (HNWI) and ultra-high-net-worth individuals (UHNWI). Both demographics represent a highly defined and specific audience.
In a study by PwC, 98% of the world's wealthy have been found to use the internet and access mobile applications daily. In addition, 85% of HNWIs have been found to possess three or more digital devices. What exactly does this mean for luxury marketing?
This means that consumers of luxury brands are evolving. More and more, they are using the internet across multiple devices. This means that luxury brands now have multiple channels to target customers. As you can imagine, mobile luxury marketing for luxury brands is now core. Core to their marketing strategy.
What does the research say?
In addition, accounting and professional services giant, Deloitte, found in its research that fast-changing trends have prompted luxury companies to keep an eye on new consumer classes.
This has been brought about by the digital age. Among these new consumer classes, high-earners-not-rich-yets (HENRYs) have been projected to be the wealthiest members of society. More than not, HENRYs look for a status symbol in their purchases too.
Understanding your target audience is essential. It is essential for the success of your digital marketing campaign as it gives you a peek into your customer's online behavior. One can also know their spending habits.
Knowing where your customers shop, what types of content they read, and which kinds of marketing efforts they respond to are all essential to developing your luxury brand's digital luxury marketing strategy.
How should you gather, interpret, and analyze your data?
After researching your market, the next step is to collect accurate and relevant data. Nowadays, data has become the bread and butter of any type of business. With the right amount of accurate data, luxury brands will be able to develop personalized approaches for a more seamless buyer experience.
Deloitte has also highlighted that consumer demand has become the core focus of businesses. Why, because of that, companies are becoming more and more reliant on other digital technologies. These include Artificial Intelligence (AI) and Big Data.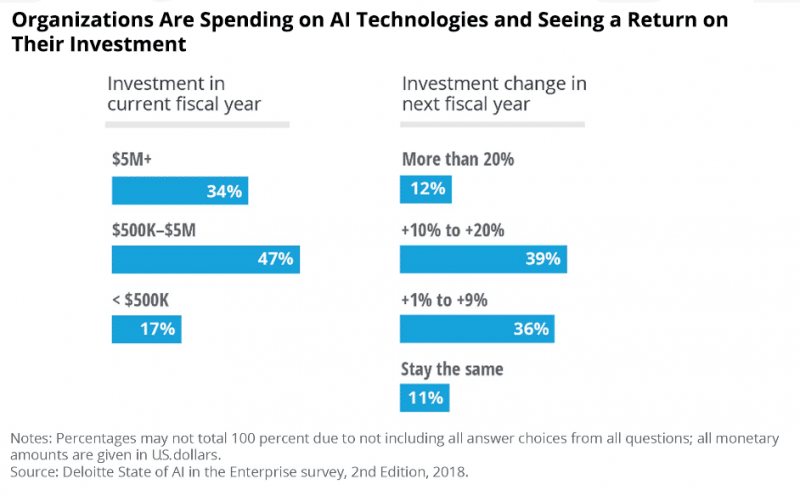 With AI and Big Data, companies are able to personalize customer engagement through the analysis of data.
Mobile luxury marketing for luxury brands is a big spend within mass marketing efforts. Luxury brands are now slowly realizing the importance of engagement as opposed to reach.
Data from past and existing digital marketing campaigns will help your luxury brand identify the factors that contribute to lower response rates and allow you to adjust your efforts accordingly.
How do goals determine your future?
After gathering as much data as you can, what's next? Before developing your digital marketing strategy for your luxury brand, you must first consider what you want to achieve. Your marketing goals define the future of your luxury brand.
Are you a startup offering luxury products and services? Your primary goal is to build awareness. This is important for luxury brands to do this.
Are you an established business in one locale and thinking of expanding to a new market? Your primary goal is to capture market share.
All marketing efforts should align with what your luxury brand is trying to achieve. Setting clear objectives is key to any successful marketing campaign.
Specific, relevant, and measurable goals will allow your company to develop cost-effective and highly targeted digital marketing campaigns.
Should you tell your company's story?
Telling your luxury brand's story creates a connection with your current and potential customers.
Usually, when telling your company's story, you don't just talk about how your company started, you also talk about what sets your product or service apart from other luxury brands.
In this way, you create an easily digestible brand experience for your customers while also highlighting your unique selling proposition (USP).
The role of digital marketing is to convert leads that interact with your brand through various marketing channels and efforts. When it comes to luxury marketing, high conversion rates mean business growth. But how do you encourage existing and potential customers to interact with your brand?
This is where content marketing comes in.
Content marketing is a planned method to create and deliver relevant content to your target audience. Remember, content can mean a lot of things.
What could content be? It could be a social media post, a website landing page, or an article posted on your company's blog.
Most luxury marketing for brands focuses on exclusivity and may find it difficult to connect with a broader audience.
Content marketing can help luxury brands tell a story the consumer can connect with and reach targeted demographics in a more efficient manner.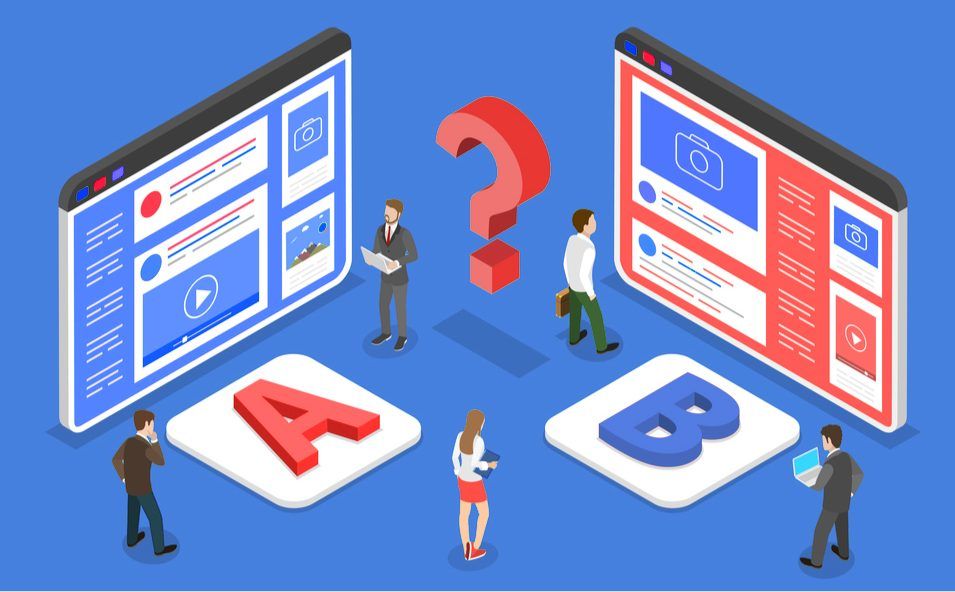 Market knowledge and customer behavior data give your luxury brand a birds-eye view on what types of content your existing and potential clients would like to see or read.
Familiarize yourself with basic search engine optimization (SEO) principles.
Key performance indicators (KPIs) can help to better measure results. KPIs can also keep objectives front and centre in the decision-making process.
Try, try, and try again
After understanding your brand and your market, gathering relevant data, setting goals, and establishing your brand story, it's time to come up with a marketing plan.
What are the things you should consider?
1. Website Design
Promoting your product is as important as having a website. Having a strong online presence is crucial for every business in order to attract new clients and remain competitive. However, having a website is not enough.
You need to make sure that your website has the necessary keywords. It would be best if you took note that your keywords are targeted. Make sure your website loads fast and is suited for use on various devices.
Moreover, You should also consider user experience and user interface.
2. Search Engine Optimization (SEO)
SEO allows your luxury brand's website to gain an audience through organic traffic. It's not about quantity – SEO is about targeting quality leads that may, at one point, purchase a product or a service through your website.
This is especially true when it comes to premium businesses. The buyer demographic is more precisely defined in this case.
Efficient SEO takes a lot of effort but having an organic strategy will help boost your ROI.
Proper SEO involves SEO-friendly content, quality backlinks, keyword research, and analysis, as well as frequent website audits and web page maintenance.
3. Social Media Platforms
Social media has been such a driving force in today's market. The visual aspect of social media platforms is something that luxury brands should take advantage of to raise awareness and engagement within their online communities. For instance, Chanel has attracted numerous brand advocates after becoming one of the most "pinned" brands on Pinterest.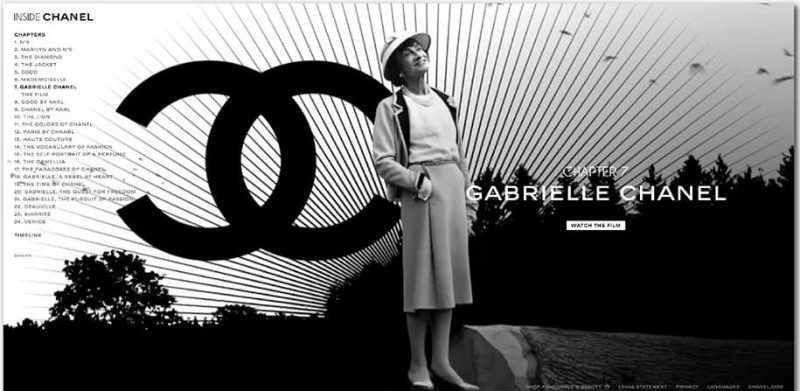 Chanel built a unique and impactful brand through digital marketing (image: Chanel)
The beauty of social media being part of your digital marketing strategy is that your reach is virtually endless. It's now about finding quality leads. Quality leads are ones that are prepared to buy your product or service.
4. Email Marketing
Don't let the recent technological advances fool you… email still works. Email is probably one of the most intimate and effective marketing strategies out there. Through email, you would be able to connect with high-quality leads and existing customers, thus increasing the probability of conversion and/or sales. Customers are able to be updated by email too. One can include the latest product launches as well as the latest news about your luxury brand.
Closing thoughts
Marketing strategies for luxury brands vary much like in any other industry. A one-size-fits-all approach is simply non-existent. Devoting time, early on, to determine which types of marketing efforts work for your luxury company and which ones don't will help you save time, effort, and resources when coming up with marketing campaigns.
This will also allow your company to better target your marketing efforts and ensure better customer engagement.
Do you see how luxury brands need to change? Through increased innovation marketing it can elevate brand awareness, it all serves to bring more sales for them.
Are you a brand that would like to innovate its marketing? Don't waste a moment longer! Let's take your marketing up a few notches to achieve your business goals. We offer great SEO, social media, and reputation management services that help your business succeed.
With First Page Hong Kong, you'll have dozens of digital marketing experts at your beck and call, ready to help you like they've helped thousands of other businesses.
To learn more, contact our talented team, and we can answer any questions you may have about how social media will benefit your business.
Sources:
https://www.mckinsey.com/industries/retail/our-insights/luxury-in-the-age-of-digital-darwinism
https://blog.hubspot.com/marketing/what-is-digital-marketing
https://www.mckinsey.com/industries/retail/our-insights/luxury-in-the-age-of-digital-darwinism
https://www.pwc.com/sg/en/publications/assets/wealth-20-sink-or-swim-gx.pdf
https://www2.deloitte.com/content/dam/Deloitte/ar/Documents/Consumer_and_Industrial_Products/Global-Powers-of-Luxury-Goods-abril-2019.pdf
https://www.scmp.com/magazines/style/news-trends/article/3008756/gucci-dior-how-luxury-brands-cleverly-use-social-media