Leveraging User Insights: How Hong Kong Marketers Can Combat The Economic Slowdown (Part 1)
Following weeks of widespread protests, many Hong Kong businesses have noticed a significant slowdown. Cathay Pacific has reported a decline in forward bookings for travel to Hong Kong "in the region of double digits" and Hong Kong's Financial Secretary Paul Chan Mo-po is indicating that the city may slide into a recession.
A recession can be a difficult time for marketers as budgets get axed while pressure to deliver intensifies. This article is the first in a series of three that will outline which digital marketing tactics Hong Kong marketers can leverage to combat the crisis.
How Consumer Behaviour Changes During a Recession
It is important to recognise that not all consumers respond to an economic slowdown in the same way. Ian Chaston, author of the bestseller "Entrepreneurship and Innovation During Austerity: Surviving Beyond the Great Recession" provides a useful framework to segment customers based on their likely response to a recession:
Slam-on-the-brakes consumers

: financially vulnerable customers who will minimise their spending in the face of a slowdown. Typically these are lower income groups, but anxious middle class customers may also fall into this category.

Pained-but-patient consumers:

Their behaviour is similar to the first category, but the measures they take are less extreme. They tend to be slightly more optimistic and will reduce their spending but are less willing to sacrifice on their standard of living. According to Chaston they typically "constitute the largest segment and include the great majority of households unscathed by unemployment, representing a wide range of income levels."

Well-off consumers:

For this cohort consumption patterns do not change much during a recession. Typically these are demographics with a higher income, or those with a high level of financial stability (i.e. government employees, corporate employees or retirees). Unless a recession is very severe and/ or prolonged it is unlikely that they will curb their spending.

Live-for-today consumers

: The spending patterns of these consumers does not change much either, however the reason therefore is not their financial independence, but rather a lacking sense of urgency. Oftentimes these are younger individuals, potentially still living with their parents. According to Chaston they respond to an economic slowdown by "extending their timetables for making major purchases. […] They're unlikely to change their consumption behavior unless they become unemployed."
How to Leverage Google Analytics to Segment Your Customers?
As a brand marketer you can analyse customer data to better understand and ideally segment your customers and to learn how Hong Kong's slowdown has impacted their spending pattern. Specifically you can:
How to Evaluate if Consumers are Delaying Purchases
Leverage the Google Analytics 'Time Lag Report' (under Conversions > Multi-Channel Funnels > Time Lag) to compare if the time between a consumer's first interaction with your website and their purchase has increased over time. According to Google Analytics' documentation the "Time Lag reports show how much time (in days) elapsed between a user's first exposure (click or impression) and their subsequent conversion. " Thus the Time Lag Report will essentially tell if consumers have become less likely to pull the trigger. If time to purchase has changed over the last few months, then a change in Hong Kong's economic climate could be a reason for that. However, please note that seasonality, discounts, new product launches, etc. may also be factors contributing to this. The image below shows the June and July time lag report of a Hong Kong e-commerce brand. As one can see, for this particular brand, the share of consumers making a purchase within the first three days of their initial interaction has dropped from 83.19% to 76.93%, which is quite substantial. Note that if you are not yet running an e-commerce enabled website, you can use the same logic to segment your users based on Google Analytics "goals" that you have defined for your business.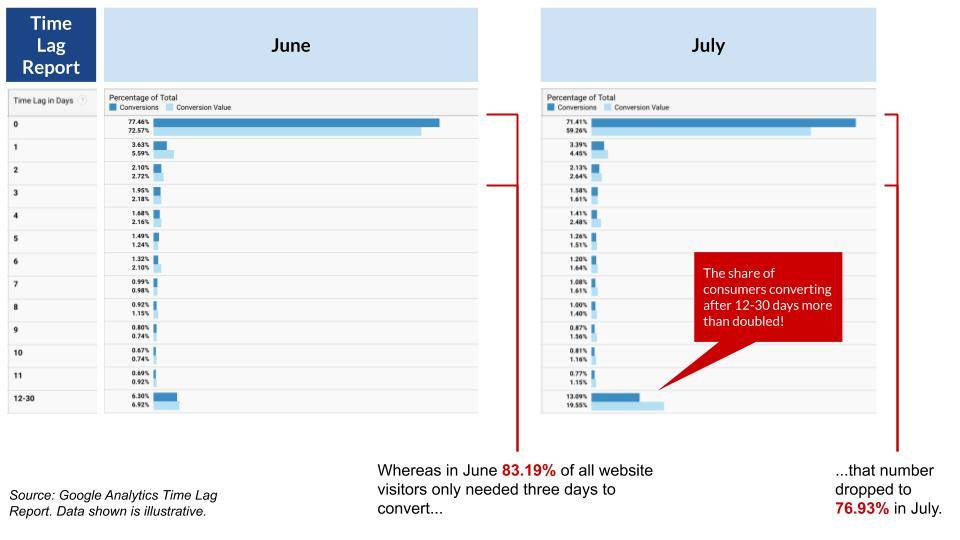 First Page often use mobile phone brand to segment user data. As iPhones are more expensive than many other devices, iPhone ownership is a meaningful proxy for wealth. This doesn't mean that everyone who owns an iPhone is better off, but statistically speaking, chances are that someone who owns an iPhone has a higher income than someone who does not own an iPhone.
mariusz kluzniak