Christmas Marketing Tips: Get Ready for the Holidays!
The holidays are when businesses can shine and make the most of their digital marketing efforts. This is a time when people are looking for gift ideas, and they are also spending more money online than usual. If you want to take advantage of the holiday season, you must start preparing now! This blog post will discuss some Christmas marketing tips and ideas that will help your business succeed during the Christmas season.
You and your customers will be able to have a super Merry Christmas!
Plan ahead for your "happy holidays" marketing activities
The holiday season is one of the most critical times for businesses. Having a solid digital Christmas marketing strategy can make all the difference in the success of your Christmas sales.
To start, what is essential is to have a clear understanding of your target audience and what they specifically want during the Holiday season. This can inform not just what products or services you offer but also your messaging and promotions.
Additionally, planning ahead is crucial to ensure the smooth execution of any marketing activities. This means finalizing design elements, setting up a schedule for social media posts and emails, and ensuring any technical aspects, such as a website update or online advertisement, are taken care of in advance.
By taking the time to plan ahead carefully, you'll be able to fully capitalize on the holiday rush and secure yourself a Merry Christmas indeed.
Create a Strong Social Media Presence
Christmas is a time for sales, and what better way to boost your revenue than by utilizing social media? First, make sure your branding is consistent across all platforms.
This means using the same logo, tone of voice, and language. Next, create engaging content that showcases your products and offers deals or discounts specifically for your social media followers.
It's also important to interact with your audience by responding to comments and messages and sharing user-generated content. And don't forget to use hashtags – they can help increase your reach and engage potential customers who may not already be following you.
With a little bit of effort and strategy, you can build a strong social media presence for your Christmas sales. Remember to use hashtags like #christmassales #socialmediamarketing #branding as well.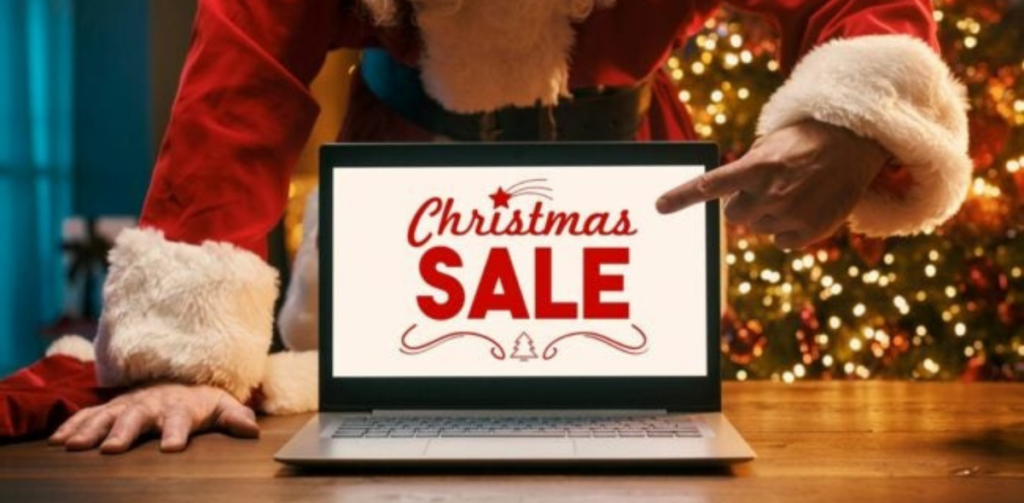 Prepare Your Website for the Holiday Rush
The holiday season is a crucial time for businesses, and a well-designed website can make all the difference in driving sales.
As the first point of contact for many consumers, it's important to optimize user experience (UX) and design (UI). Users will want their shopping season to be easy! Remember that for them, Christmas time is not meant to be stressful. Make your online store festive, easy to use, and ready for the Christmas shopping season.
Product pages should be clear and easy to navigate, with high-quality images and accessible information. Make sure you do some keyword research and use relevant phrases that will draw attention from your target audience.
Additional landing pages can also be created to promote holiday sales or specials. Holiday decoration can enhance the website's visual appeal, but it's important to ensure that it doesn't detract from the user experience.
It's also important to regularly monitor website performance during the busy holiday season, detecting and resolving any potential technical issues that may affect customers' ability to make purchases. By taking these steps, businesses can ensure that their website is ready to drive Christmas shopping and meet consumer needs.
Send out Christmas-themed email blasts
Email marketing is a cost-effective and powerful tool for driving sales during the holiday season. By creating targeted campaigns, businesses can offer personalized deals and discounts to existing customers and attract new ones.
Offering loyalty programs or referral incentives can also increase repeat purchases and word-of-mouth advertising. During this time of year, it's also important to keep up with industry trends and offer special promotions, such as Black Friday deals or holiday gift guides.
Most email marketing campaigns will need a landing page or two. Make sure your landing page conveys a "happy holidays" or festive feel. As a design tip for your landing page, you can include images of Santa Claus or add some Christmas decorations.
Email marketing allows businesses to stay in constant communication with their customers, ensuring that they don't miss out on any sales opportunities during the bustling holiday season. Any Christmas marketing campaign that uses email can really help generate leads and improve online sales.
Use Paid Advertising to Target Christmas Shoppers
As the holiday season approaches, businesses must ramp up their advertising strategy to attract those last-minute Christmas shoppers. Your online store can also use PPC to start your Christmas marketing campaign before the traditional Christmas period.
One simple and effective way to do this is through paid advertising. PPC, or pay-per-click, allows businesses to pay for their ads to be displayed in prominent places on search engines such as Google.
Facebook ads can also target specific demographics and interests, making them an invaluable tool for targeting potential customers during the busy holiday shopping rush.
Social media marketing can similarly target specific audiences, allowing businesses to promote products and offers directly to those most likely to purchase them. These social ads will appear on the social media feeds of your target customers.
Keyword research is also important for any ad copy you produce for your Christmas marketing campaign. The keywords you use in your ads will have a festive theme and also be relevant to your target audience.
Remember to start early with your ads. You will have the opportunity to market to other countries. If you are doing this, it would be great to remind customers to start shopping early! Maybe you can also offer incentives in your ads. Some incentives include giving a free shipping day, coupons, or gift certificates.
By utilizing paid advertising on search engines and social media platforms, businesses can attract holiday shoppers and boost sales this festive season.
Make sure your site or online store is mobile-friendly
As a business, it's important to make sure your website is mobile-friendly during the busy holiday shopping season. When prospective customers visit your website on their mobile phones, they want a seamless user experience (UX) and user interface (UI).
If they encounter slow page loading times or difficulty navigating the site, they may give up and go to a competitor's page. That's why it's crucial to optimize your mobile website for conversions by testing page loading times and making sure all information is easy to access and navigate.
In addition, helpful content such as Christmas gift guides or holiday sales can make mobile users more likely to make a purchase on the spot. Don't let mobile shoppers slip through the cracks – make sure your website is mobile-friendly this holiday season.
Getting your site mobile-friendly for the Christmas season is crucial and one of the best ways to drive online sales.
Final thoughts
The holidays are a time of cheer and giving, but they can also be a time of stress for small business owners. Not to worry – we're here to help!
In this blog post, we've outlined some digital marketing tips to boost your Christmas marketing campaign and boost online sales. Your business will be ready for the Christmas season. You will be able to get your marketing strategy ready and get fired up with that unique Christmas campaign!
Whether you're looking to increase traffic to your website, generate leads or boost sales in your eCommerce store, we have you covered for the Christmas rush.
So what are you waiting for? Start planning your holiday marketing strategy today and maximize sales now for Christmas!
Learn more about how our team can help with your Christmas campaign by contacting us today.
Have a Merry Christmas!