404 Pages: Best Practices for Creating Custom Error Pages
404 pages can be a nightmare for users if not done correctly. Imagine clicking a webpage link and being met with and the page no longer exists, annoying right? But, we've all been there. 404 pages can be a real facepalm moment for web developers. With 404 page best practices, you can improve your site's usability and search engine visibility.
In an ideal world, users would never encounter a 404 page but even on well-maintained websites these things happen so it's always good to be on the safe side. Managing the backend of your website is just as important as how it looks!
What is a 404 page?
The 404 page, also known as the error page, occurs when a URL that is trying to be accessed does not exist or cannot be found. The error code is there to tell search engines and users this information. They are very commonplace on the internet and a natural result of websites changing/modifying content over time. The Google Webmaster Team recently stated that 404 errors occur 30-40% in URLs in their Search Console.
There are many different error codes. The '404 not found' is what we'll discuss in this article. A user may end up a This page for several reasons, including: 
The server is down.
A page moved and wasn't redirected.
The page never existed or the content was removed.
The user typed the URL in wrong.
Broken links.
Why having this as a custom is important for your website?
The truth is, errors on your website are inevitable. But, the purpose of a 404 page is to turn a negative experience into a positive outcome for the user and an optimised error page can help with your search engine visibility too! You'll soon learn that there is a lot more to error pages than what meets the eye.
So, what makes them so important? You have to prepare for when things go wrong on your website and have something in place that going to prevent users from clicking off. Plus, if you don't issue a 404 response code, you won't know that the page – and therefore the user – is experiencing an error and the problem will continue.
A good 404 page can benefit your website by:
Reducing the bounce rate and keeping users on your website.
Maintaining consistent branding with custom 404 pages.
Making users feel positive about your site and not unsatisfied.
Linking to other areas of your website and increasing conversion.
The New Yorker has hit the nail on the head with this 404 page. Not only is it humorous, but they've made navigation easy with a link back to the homepage and a search bar so users stay on the site.
Don't skip over your error pages but use them to your advantage and keep your site running smoothly. Not only will Google have a better response but users will be more likely to continue browsing and return.
How do you create a 404 page?
If you're looking to upgrade your 404 pages or create one from scratch, a custom design can be much better than a standard error page that stands out like a sore thumb! Smart website owners will get creative and treat error pages like any other website page, therefore staying on brand, maintaining the usability of their site and providing a solution.
An example from Pixar for a 404 page
Take one of Pixar's 404 pages for example. Featuring Sadness from 2015's hugely popular Inside Out, they've stayed on brand and had a little fun with it. They've also added links to relevant pages such as 'short films' so you aren't left feeling too blue once you leave the page.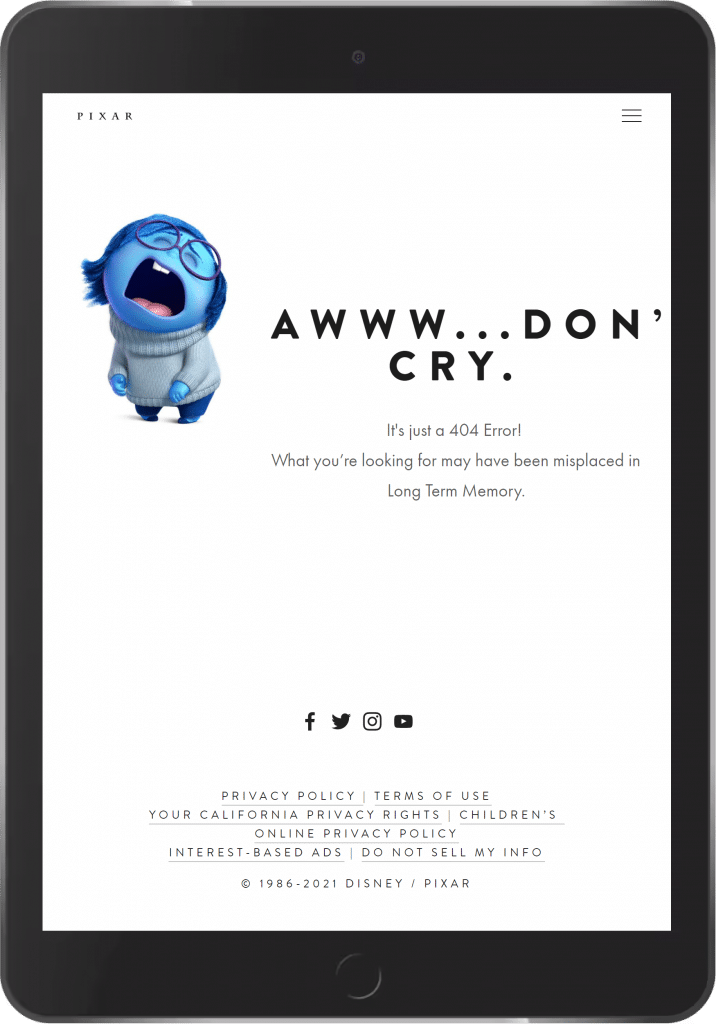 So, how can you create your own 404 page? Some of the best practices that you should incorporate include:
Linking to popular pages instead of just your home page – don't take a short cut a redirect to your home page. Providing links to your most popular pages can convert sales and provide clear navigation.
Maintaining your brand theme in the custom 404 page – even on an error page the design and tone should not look out of place. Be consistent with your branding so users aren't left confused.
Replace techy language with something understandable – Instead of the default 404 messages replace it with something like "page not found' or 'Sorry, we can't find what you were looking for"
Optimising so it's SEO ready – add internal links to boost your SEO score or a search bar to decrease bounce rates and apply the same SEO rules as you have across the rest of the site.
Add humour such as a meme, video or game – poke fun at yourself with a witty response or keep users entertained with a meme. Either way, humour can go a long way.
Follow these top tips and make your 404 pages more effective!
What can an SEO agency do to help your company's website?
If you manage or oversee a website and have concerns over which pages are showing errors and how to fix them we can help.
What we can do as search engine specialists:
Crawl the website using several tools to identify all the 404 pages.
Determine which, if any, have SEO value, and should be restored or redirected. 
Can configure rules to handle future 404 errors, and make a decision on what is best for the campaign regarding existing crawl issues.
Don't waste a moment longer! Let's take your 404 pages up a few notches to achieve your business goals. With First Page Hong Kong, you'll have dozens of digital marketing experts at your beck and call, ready to help you like they've helped thousands of other businesses.
To learn more, contact our talented team, and we can answer any questions you may have about how getting your 404 pages in order will benefit your business.