We just passed 10K followers on Linkedin. Here's how we did it…
Do you want to know how to increase followers on LinkedIn? Well, let us tell you a story. Rewind to July 3rd, 2020…
It was hot out. Covid was in full swing. Tom Cruise turned 57 years old (don't ask us why we know that).
But something else important happened that day…
We, as a company, decided to seriously improve our social media efforts.
Especially on Linkedin.
Sure, up until that point, we had done OK with Linkedin – we published some decent content and saw some slow growth, but we knew we could do better. LinkedIn has 810 million members and we wanted to be relevant and known. I mean who doesn't?
So we set to improve our Linkedin efforts across the board – this meant better content, greater engagement, and faster growth.
Fast forward to June 2021, and we are now celebrating over 10K followers on the platform – 100% of which is organic (this means we didn't use LinkedIn ads, although these are pretty awesome too).

So how to increase followers on Linkedin?
How did we clean up our act, improve our game, increase engagement by 142%, and grow 5,000+ followers in one year?
Here are our 5 takeaways…
Takeaway #1 – Can diversifying your content on LinkedIn help?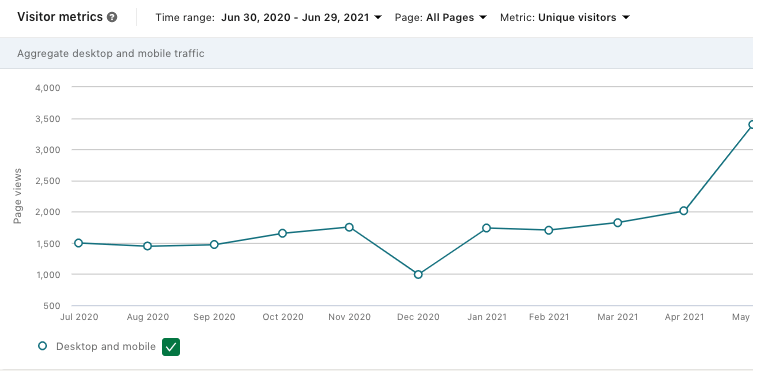 You see different types of content on Linkedin.
Behind-the-scenes photos showing off a company culture.
In-depth guides showing you how to improve your business skills.
Memes about drinking too much coffee.
The list goes on.
And truth be told, all types of content can perform well on Linkedin.
So our recommendation?
Try it all.
Over the past year our content strategy has been a mix of sniper-like-precision, as well as a heavy dose of throw-it-against-the-wall-to-see-what sticks. This gives us the ability to create highly-targeted marketing strategies, while also going completely off the cuff and experimenting with new types of content.
We've published behind-the-scenes photos…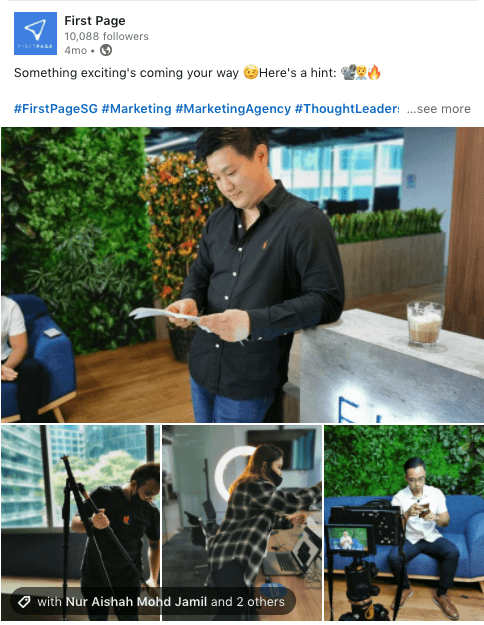 In-depth guides…
And totally hilarious memes (OK, we think they are hilarious)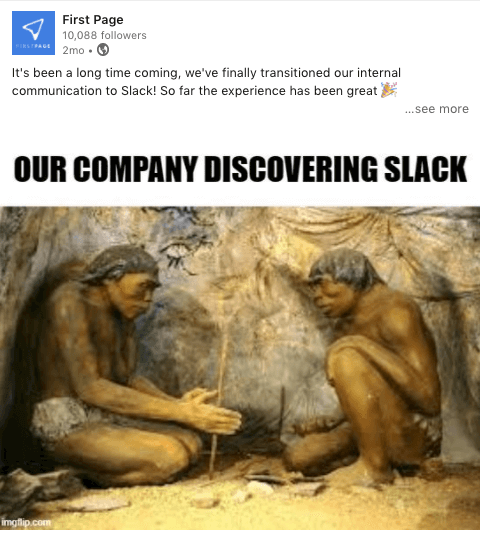 By doing a bit of everything, you are ensuring that your Linkedin page is always publishing new, fresh content that interests different types of people.
And the results might surprise you! Here are the 4 posts that we published that got the most impressions over the past 12 months.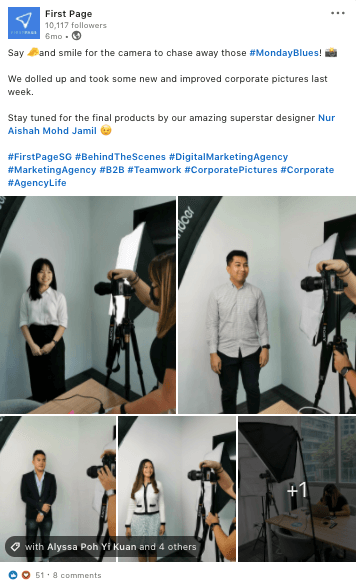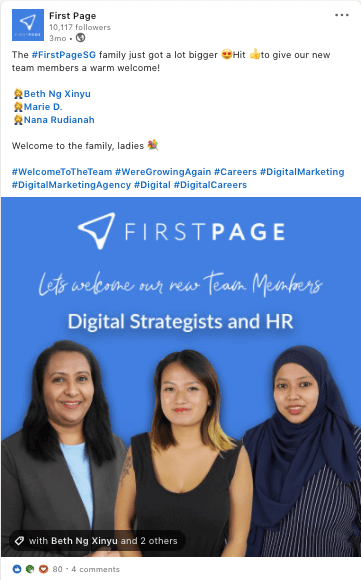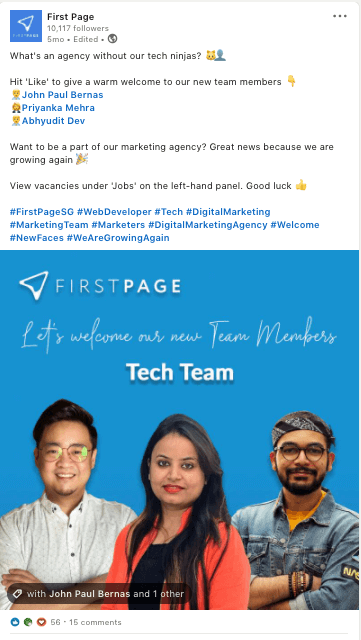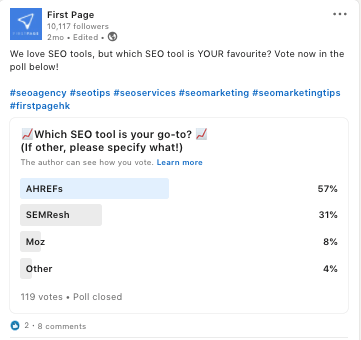 As you can see, there's a bit of variety – 1 behind the scenes, 1 poll, and 2 'new employee welcome' posts.
Should you be having a hard time knowing what content you should publish, read our blog on how to easily create a social media strategy. This will guide you on the type of content you should produce and when you should publish it!
By mixing up the types of content that you publish, you'll be able to identify which content generates the most impressions, shares, and overall engagement rates.
Speaking of engagement rates….
Takeaway #2 – Are carousels a BEAST for engagement on LinkedIn?
If you are looking to increase the engagement on your Linkedin, our #1 suggestion is to publish carousels.
Well, technically speaking, Linkedin doesn't allow you to publish 'carousels'. You can either publish multiple photos, that looks like a collage, like this…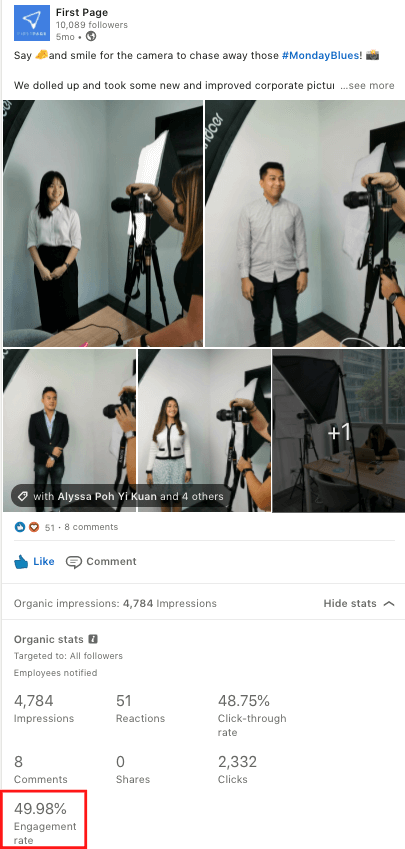 Or you can upload a multi-page PDF (which looks strikingly similar to a carousel) that looks like this…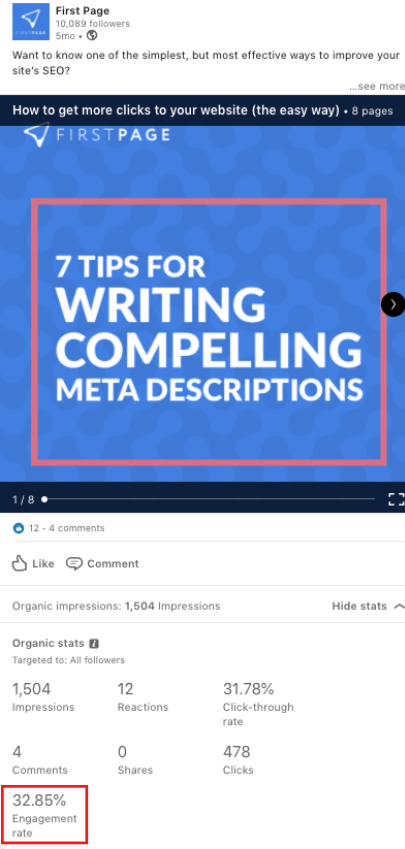 No matter if you publish a PDF 'carousel' or a collage of images, they both create the same emotion within your followers – curiosity.
And curiosity = higher likelihood of engagement.
Notice how high the engagement numbers are for the two prior examples (49% and 32%). This is 10x's the engagement that we get from posts with a single photo, and these high engagement rates have remained consistent throughout the past year.
But! This isn't an excuse. Don't feel like you can just whip up a poorly made PDF 'carousel' and call it a day. Your followers know the difference between good and bad quality content – so your carousels better look stellar and bring immense value. If they don't then you will see your engagement drop – and quickly.
That's why all of our carousels are treated with a bit of extra love. In fact, many of our carousels took us over 2 hours to create!
But if you are looking to improve the engagement you have with your followers, the juice is worth the squeeze.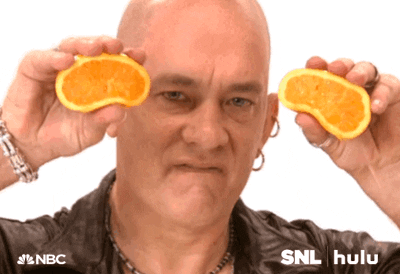 Takeaway #3 – Do People love people on LinkedIn?
When we began on this journey, we noticed that when we published culture content, it performed very, very well.
And it makes sense. While Linkedin is technically a social media platform for business, at the end of the day, it's still social media – people still are drawn to people.
That's why posts like this get HUGE engagement (97%!)…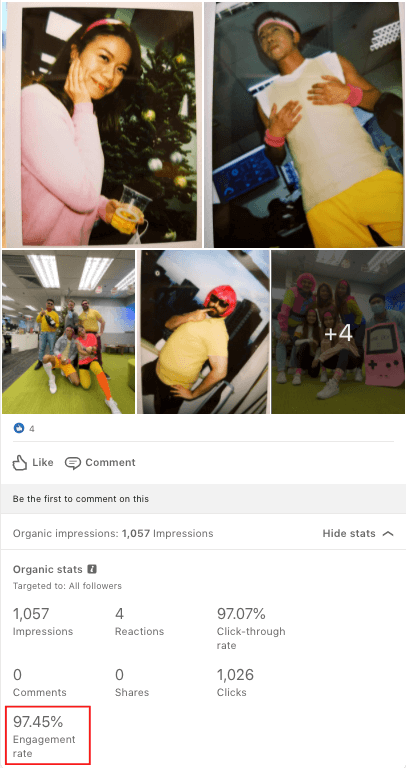 And posts like this don't really move the needle as much…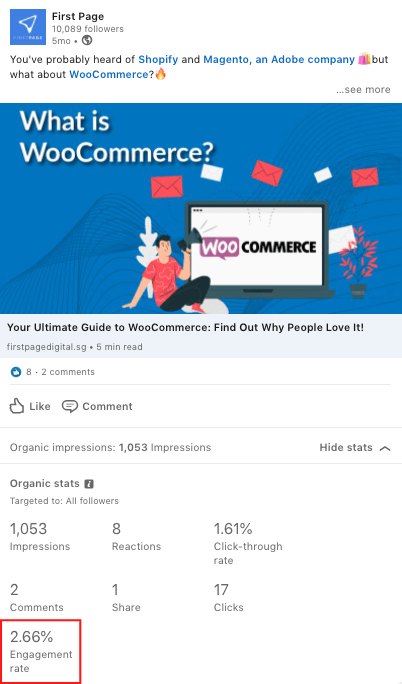 BUT!
We wouldn't recommend posting a bunch of behind-the-scenes culture photos every day. Culture pictures are fun, and absolutely bring value to your business, but not always in a way that impacts your bottom line. Culture photos are great for building trust with your followers, and ESPECIALLY helpful when you are recruiting for new talent, but do remember that balance is still the name of the game.
That's why we try and publish around 1 'culture' post for every 2-3 'business' posts.
Takeaway #4 – Does video underperform on LinkedIn?
In October of last year, we put more resources into video production, with the specific goal of having it perform well on Linkedin. This is one of the ways on how to get more followers on LinkedIn.
We put a TON of time into scripting, shooting, and editing a few original videos, and we also created a plan to uploaded the video feed from our podcast.
When we hit the publish button on the first video, we were so confident that the video would be a raging success, that we were nervous that our computers would explode from how fast the video went viral. ⚡️
Well, unfortunately, that never happened…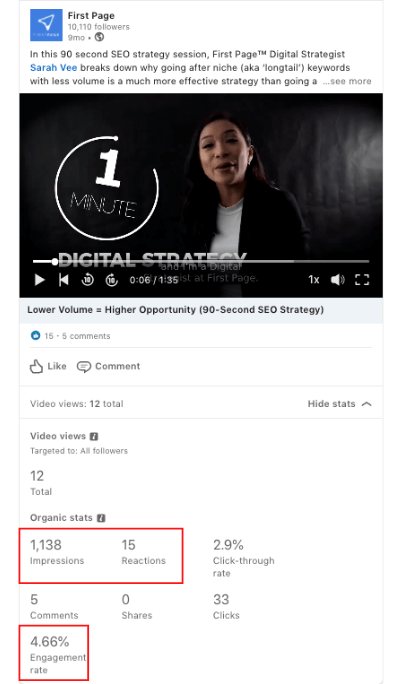 We published an entire series of videos like this based around the concept '1 Minute Digital Strategy'.
All of them had 'meh' engagement, 'meh' views, and 'meh', impressions.
We had the same problem when we edited, and uploaded video clips from our podcasts.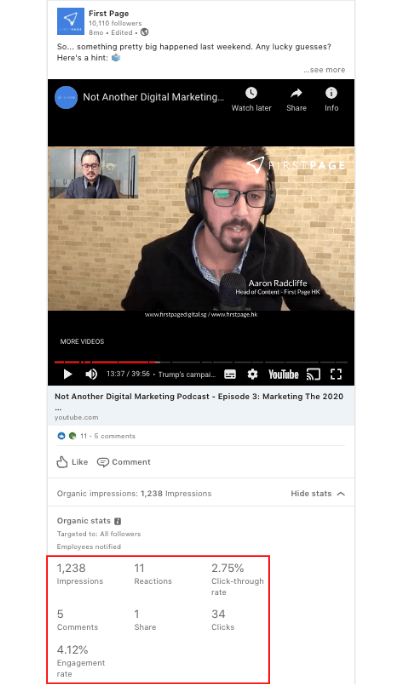 Nothing specatcular.
To be very clear though – we aren't saying DON'T do a video on Linkedin. Many content creators are killing it on Linkedin with video content. We are just saying that it just didn't work very well for us, especially from an engagement perspective.
We do think that to really get traction for Linkedin video content, it requires a lot more time, effort, and long-term commitment.
But don't worry about us, we're totally OK that our videos didn't go viral.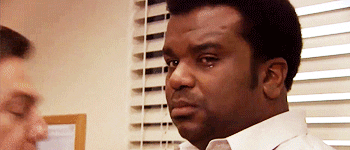 Takeaway #5 – Should you oost consistently on LinkedIn?
We know, we know, this is the same generic advice you read on every listicle regarding how to grow your social media following. This is one of the secrets on how to increase more followers on LinkedIn.
Well, that's because that advice is very, very true.
When it comes to organic content, more is certainly merrier.
In the last 365 days, we published 336 pieces of content on Linkedin. This high frequency of publishing enabled us to A/B test different types of content, which helped us identify what types of content performs best, which helped us greatly expedite our growth.
If you can, we recommend trying to publish content on Linkedin at least 3-4 times a week… 5-7 if you can swing it.
But again, remember to never push for quantity at the cost of quality. Linked users are sophisticated and savvy – boring, spammy, and low-quality content does not survive on this platform. If you have resources, you need to focus on quality AND quantity.
Final thoughts on to how to increase more followers on LinkedIn
Linkedin is an incredibly powerful platform and has helped us grow our brand awareness, identify hot leads, and close some pretty big sales. How to increase followers on Linkedin is not an easy formula to come up with. We believe though we have it.
So take your Linkedin growth seriously – invest the time into a content strategy that serves your business goals, and focus on executing that strategy consistently.
If you do, the results can be pretty damn stellar.
Also worth noting, if you're struggling with other platforms like Facebook, maybe check out this epic blog on how to get more followers on Facebook.
Is there anything in this guide I missed? If so, let me know in the comments below, or feel free to reach out to us more directly using the big red 'Get in touch' button!
LinkedIn FAQs
Is LinkedIn beneficial for entrepreneurs?
By including powerful keywords, achievements, and professional successes, LinkedIn for entrepreneurs can assist in building a strong business profile. As a result, other businesses, potential partners, vendors, and clients in your niche will learn about you and your company.
Is LinkedIn free for entrepreneurs and businesses?
It costs nothing to have a corporate page on LinkedIn; anyone may have one.
With LinkedIn, what is LinkedIn Premium?
LinkedIn imposes a business use restriction that limits searches and profile views for free accounts to a modest number. Users of LinkedIn Premium receive limitless searches, additional filters, and excellent sales, hiring, and employment insights.
Exactly why do companies use LinkedIn?
By using LinkedIn for business, you may establish credibility, develop a valuable network, and obtain insider knowledge from recognized authorities in your field.
What else can you learn to make an impact online?
There are many digital marketing tactics can be used to boost your brand's online profile.
If you are interested in knowing more, here are some useful blog articles that we recommend you read:
Perfect Your Email Marketing Strategy Now
What are the top PPC ideas you ought to know?
Social Media Strategies: Successful Ones You Can Learn From
Helpful Content Tips: Get Noticed Before the Competition
6 Easy Digital Marketing Hacks to Increase Your Leads
You probably are a busy business owner and don't have the time you need to get the online impact by yourself.
If this is the case, we encourage you to review some of our strategic digital marketing services:
SEO for your business to drive qualified leads
Social media management for improved brand awareness
Linkbuilding to drive organic traffic to your website
Top converting landing pages to convert your leads
Email marketing campaigns to bring in referrals
Of course, more than anything, we would love to help you succeed online, get noticed, and build your business. If you have any questions, please contact one of our expert digital strategists. It is obligation free, and we would love to chat with you.